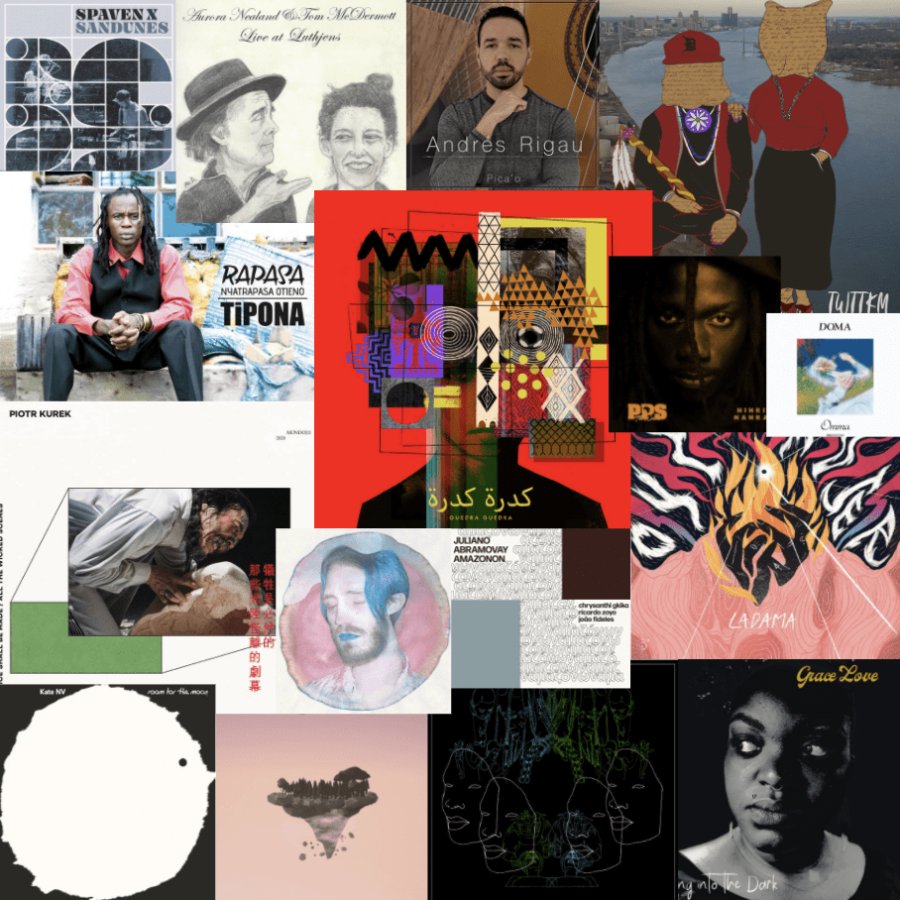 Found Sound Nation's Nyokabi Kariuki revisits albums released by OneBeat alumni in 2020
—
1. Kate NV (Russia) — 'Room For The Moon'
Kate NV's third album 'Room For The Moon' was recorded in her home studio in Moscow, drawing inspiration from "Russian children's movies and television shows" (as she explains to Pitchfork) and even features samples from Found Sound Nation's "broken orchestra" sample pack. Pitchfork named the album one of their top 5 releases of the week, highlighting it as "a visionary record that offers an escape from gloom"; and the album has received critical acclaim from other tastemakers including The Guardian, Resident Advisor and Clash Music.
Listen: Bandcamp, Spotify, and all major digital platforms.
2. Guedra Guedra (Morocco) — 'Son of Sun'
Abdellah M. Hassek, a.k.a Guedra Guedra, released 'Son of Sun' through On The Corner Records, and it was described by SceneNoise as "a cacophonic frenzy unique to Guedra Guedra alone". Of the album's influences, the 2014 OneBeat Fellow explained: "I am trying to explore the very important ethnic, social, cultural and linguistic identity that North Africa and a large part of Africa are sharing, by challenging through music, topics like; rhythm and polyrhythm, ritual practices, the practice of trance, the notion of memory and musical transmission in African nomadic society, and more. Guedra Guedra is a more low, polyrhythmic, tribal, organic and poetic, chaos project."
Listen: Bandcamp, Spotify, and all other major digital platforms.
3. Grace Love (USA) — 'Sing Into the Dark'
The accomplished singer-songwriter, restaurant owner and community organiser has been part of acclaimed music group Grace Love and the True Loves, but this year, she released another raw and soulful solo album, "Sing in the Dark". A 2016 OneBeat Fellow, Grace Love has been described as "Seattle's shining jewel of grit, beauty and power".
Listen: Bandcamp, Spotify, and all other major digital platforms.
Rapasa is currently an Artist in Residence at Sage Gateshead, England, but earlier in March, he released his debut album, "Tipona" (My Shadow). Hailed by Calabash! African Music Guide as "hypnotic and lyrical", the album is a spiritual journey seen through the eyes of a young village boy stepping into manhood and honors the rich musical traditions of his ethnic group, the Lüo people of Kenya. In addition to his guiding voice, Rapasa brings to light several instruments indigenous to East Africa, with the nyatiti being the constant, grounding pulse throughout.
Listen: Bandcamp, Spotify, and all major digital platforms.
5. Sandunes (India) — 'Spaven x Sandunes'
The Mumbai-based producer Sanaya Ardeshir (a.k.a. Sandunes) worked with the acclaimed British jazz drummer and musician Richard Spaven to create this record — in just four days. Speaking to Rolling Stone India, Sandunes said, "I don't think I have expended more energy on a project. This opportunity, and the way this project has come together has been mind-boggling." The trans-continental duo first performed together in Mumbai, and the 2014 OneBeat alumna mentioned that this album was "indicative of a longer collaboration" with Spaven.
Listen: Bandcamp, Spotify, and all other major digital platforms.
6. Sacramento Knoxx (Detroit, USA) — 'The Winter Tried to Kill Me: Sad NDN Love Songs'
 2017 OneBeat Fellow Sacramento Knoxx released a 27-track album in May, on his birthday, that beautifully weaves together a wide array of sounds and influences. Currently, the interdisciplinary artist is the Education and Community Engagement Research Residency Artist at the University of Michigan, and his his first virtual performance as the residency artist takes place on December 21st, where he will be sharing original songs and traditional indigenous teachings.
Listen: Bandcamp, Spotify, and all other major digital platforms.
"It's a song that brings references to Greek music in terms of rhythm and melody, while maintaining my tradition as a Brazilian musician," 2019 OneBeat Fellow Juliano Abramovay said of his album's titular track, 'Amazonon', which was not only listed on Revista Rolling Stones Brazil's hotlist of the week, but also given a shoutout by the notable guitarist Tim Sparks. Abramovay recently released a teaser of the Amazonon project studio sessions, which will give a closer look into the making of the album.
Listen: Bandcamp, Spotify, and all other major digital platforms.
8. LADAMA (Brazil, Venezuela, Colombia, USA) — 'Oye Mujer'
From their Tiny Desk concert last year to the release of "Oyer Mujer" this year, LADAMA — made up of Lara Klaus, Daniela Serana, Mafer Bandola, and Sara Lucas who all met at OneBeat 2014 and includes 2015 Fellow Pat Swoboda — continue to go from strength to strength. "LADAMA's creative power is almost overwhelming," said NPR's Alt. Latino host Felix Contreras, who highlighted the second track on their album, 'Nobreza', on his NPR staff picks list as one of the Top 10 songs of 2020.
Listen: Bandcamp, Spotify, and all other major digital platforms.
9. Piotr Kurek (Poland) — 'A Sacrifice Shall Be Made / All The Wicked Scenes'
 Polish composer, producer and 2012 OneBeat alumnus Piotr Kurek released "A Sacrifice Shall Be Made / All The Wicked Scenes" in June, a compilation of works written for theater performances produced by Chinese and Polish directors. The album reflects the fluidity of Piotr's musical skill. "Working in the theater is intense and inspiring", he said in an interview with Polish Magazine Dwutygodnik, where he spoke more about the cross-cultural collaboration.
Listen: Bandcamp, Spotify, and all other major digital platforms.
10. Aurora Nealand + Tom McDermott (USA) — 'Live at Luthjen's'
2013 OneBeat Fellow Aurora Nealand released an album with long-time collaborator and pianist Tom McDermott, a process which had initially included a weekly residency at New Orleans' Buffa club that was cut short due to the pandemic. The intimate album features covers of Carole King, Tom Waits, Scott Joplin and more. As noted by Keith Spera, in addition to her being a skillful wind player, Aurora shines as a "nuanced vocalist with a knack for illuminating a lyric's emotional core".
Listen: Spotify and all other major digital platforms.
—
More Albums to Explore:
Andrés Rigau (Puerto Rico) wrote 'Pica'o' during quarantine, a 9-track album of soulful, intimate guitar-playing.
Dumama + Kechou (South Africa) take us on a "bewitching musical odyssey" (The Guardian) in 'buffering juju', a captivating album following the journey of a woman who has escaped from prison.
MITYA (Russia) released 'Nude' this year, and the EP was nominated for Album of the Year by internet magazine What's Happening.
Andrea Hoyos & Johanna Amaya C (Colombia) are bandmates in Hoyos' acclaimed group Balandra. Their 2020 album 'Aviario' explores influences of jazz and Latin American folk music.
PPS the Writah (Senegal) released 'Ninki Nanka' earlier in the year, which was nominated for 4 categories at the Galsen Hip Hop Awards including Best Solo Album and Artist of the Year. What's more: PPS released another album just days ago: 'Bés Bu Bees'.
OMMA (Russia) — her colorful 2020 release, 'DOMA', was recorded in quarantine in the artist's home studio in France.