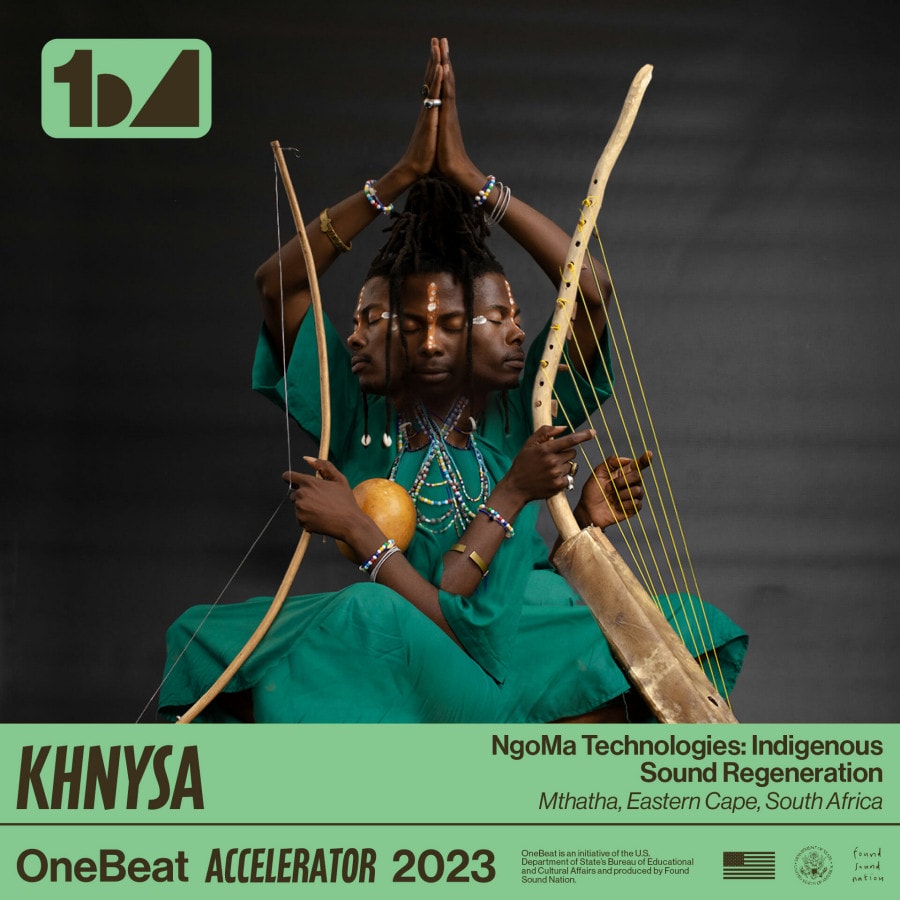 OneBeat is excited to announce 10 new awardees of the OneBeat Accelerator, a micro-grant for the development and implementation of socially-engaged projects by OneBeat Alumni. This year's 2023 Accelerator recipients span 12 countries and include Alumni from 5 OneBeat programs. Focusing on subjects ranging from youth empowerment through music to the study of Indigenous healing sonic practices, we are excited to watch each of these projects develop throughout the year.
The OneBeat Accelerator supports our growing artist network by providing seed grants to OneBeat Alumni who are implementing socially-engaged projects in their home communities. To date, we've supported nearly 30 incredible Alumni projects that impact youth education, women's empowerment, civic engagement, the documentation of unheard voices, robust creative economies and much more. OneBeat is an initiative of the U.S. Department of State's Bureau of Educational and Cultural Affairs and produced by Found Sound Nation.
Congratulations to the following Fellows and best of luck on their upcoming projects:
Balkis Coraima Diaz Torres & Marina Afares | OneBeat Virtual 3 | Villa Nueva, Costa Rica; São Paulo, Brazil
Cozy Latina Sessions aims to create a new platform that gives access to music genres that aren't paid enough attention to by music industry standards. This platform seeks to represent women in their diversity, non-binary people, queer people, and indigenous groups, among others, who are innovating in music.
___
Alina Anufrienko | OneBeat Virtual 1 |  Berlin, Germany
IMAGIN HOW is a project aimed at integrating teens and young adults into the field of contemporary art. The project is a cooperation between immigrant teenagers from different countries living in Berlin, as well as educational platforms and members of the artistic and musical professional communities in the city.
___
Orakle Ngoy | OneBeat Virtual 3 | Kinshasa, Congo-Kinshasa
IMPACT ZONE is an educational program for young people and a documentation of unheard voices through artistic co-creation, awareness and a search for solutions in the fight against violence against women and girls of the streets of the Pakajuma District in Kinshasa.
___
Soumia Ghechami | OneBeat Sahara | Batna, Algeria
Music Matters Concept (MMC) is a creative development organization led by Soumia Ghechami, specializing in music education, performances, and cultural events, with a focus on supporting young musicians from different regions of Algeria and empowering female musicians. Based in Algiers, MMC is at the heart of a recent exciting revival in music in Algeria and will help to ensure that young artists are able to develop their full potential and are equipped to fulfill successful careers as professional artists.
___
NgoMa Technologies: Indigenous Sound Regeneration
KHNYSA | OneBeat Virtual 2 | Eastern Cape, South Africa
NgoMa Technologies: Indigenous Sound Regeneration, is an initiative dedicated to the making, playing and innovation of indigenous sound technologies as sites of healing, creativity and knowledge. The goal is for participants to feel and experience the songs of their heart by using these ancient devices in a hyperindustrial network world.
___
Lav Kovač | OneBeat Virtual 3 | Novi Sad, Serbia
Pioneering New Generations is a workshop led by musicians and multidisciplinary artists in Novi Sad that aims to inspire a new generation of local musicians to develop new, socially engaged ways of music-making and to introduce these practices to local audiences.
___
Ivona Eterović & Summer Krinksy | OneBeat Virtual 3 | Zagreb, Croatia; Detroit, United States
ProduceHer, is a three part workshop series teaching, empowering, and elevating female-identifying and LGBTQIA+ producers, aiming for participants to gain confidence to navigate a DAW and use music as a tool of self-expression. These sessions will involve teaching basics, mixing, and highlighting notable women in the field.
___
Manmeet Kaur | OneBeat Virtual 1 | Chandigarh, India
Reverse aims to engage urban beings in a process of regenerative music creation to collectively reflect on our daily choices and sensationalize the need of servitude for nature for all it provides us. In partnership with experts in environmentalism and art, this project will incorporate clean-ups, music workshops for kids using discarded materials, and public performances.
___
Tedi En | OneBeat 2016 | Jatiwangi, Indonesia
The inhabitants of rural Jatiwangi, Indonesia's largest roof tile industrial area, have lived their life by cultivating clay/terracotta since 1905. Sound of Soil, aims to conserve the culture of "Soil of Jatiwangi" as part of Kota Terrakota, by processing soil to create a diversification of musical products and sounds, composing works with an ensemble of roof tile factory workers, and strengthening the identity of a region through music and sound.
___
Muhammad Dawjee | OneBeat Virtual 3 | Johannesburg, South Africa
Sound Seeding is a sound activist project that reconfigures the ecological soundscape of the urbanised and forgotten Jukskei river origin in Johannesburg.