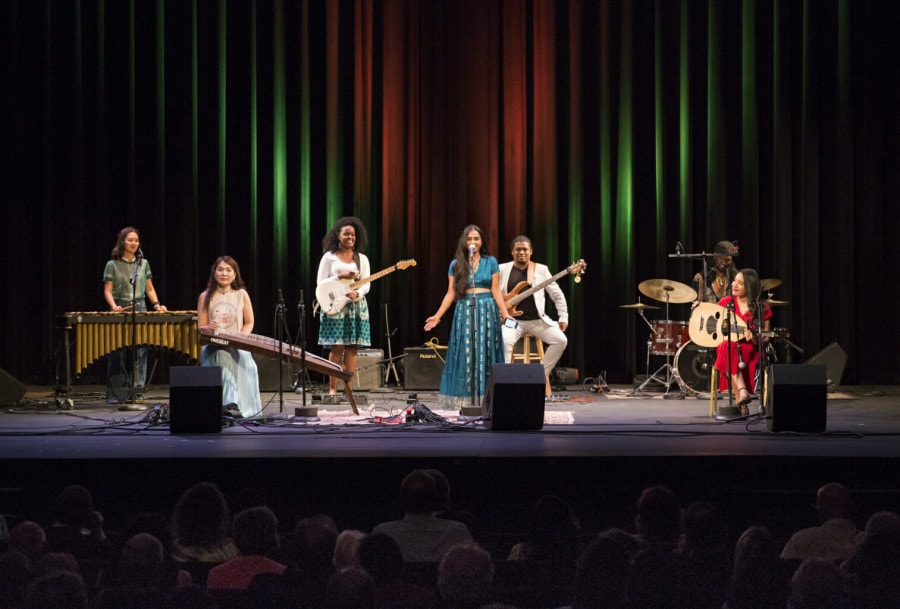 OneBeat is excited to announce 9 new recipients of the OneBeat Accelerator. The OneBeat Accelerator provides a micro-grant to Alumni for the development and implementation of follow-on projects which support democratic principles and address topics such as access to education, community resilience, economic empowerment, media literacy, and youth empowerment. Congratulations to the following Fellows and best of luck on their upcoming projects:
Wu Siou Ming (OneBeat 2016)
Looking for the Fruits of Memory, a reality game & audio installation taking place in old, abandoned military bases in Kaohsiung City, Taiwan, featuring stories of elders who used to live in these spaces. Beautiful, imaginative project that connects with elders & storytelling in a powerful way.
Lucie Pachova (OneBeat 2013)
Sound and Climate Camp, a youth residency with a goal of inspiring young people living in northwestern Czechia to address local social-environmental challenges through creative work with sound and music.
Wajahat Shah (OneBeat Virtual #1)
Meher-e-Khun Music School and Residency, a brand new music school built and led by Wajahat in Hundur Village Yasin Valley, Gilgit Baltistan, Pakistan. The school focuses on the preservation of traditional music, the empowerment of artists (especially women), and a space for local and global artist residencies.
Tariro Negitare (OneBeat 2015)
The continuation and expansion of Magitare Creative Arts Hub, a creative space in Zimbabwe for 7-18 year-olds aimed at enhancing creativity of an individual through education in music, crafts, storytelling theater, visual art, financial literacy, etc, in addition to live performances and events.
Camilo Rodriguez (OneBeat 2014)
Espiritus y Plantas de Poder en movimiento/Spirits, and Herbs of Power on the Move, a series of multidisciplinary installments and portraits of the spiritual and musical traditions that have traveled alongside Venezuelan and displaced Black and Indigenous communities, and landed in the city of Cali, Colombia.
Mehdi Qamoum (OneBeat 2017)
Barakat J'doud Lila Celebration at Jazzawiya, a virtual traditional Gnawa celebration that will help to keep open the doors of the Jazzawiya Center, Agadir's only community cultural center, which has played a critical role in shaping the lives of young people of Agadir for over 36 years by immersing them in music, art and cultural activities.
Anna Roberts-Gevalt (2014)
Sick Studio, a recording process that embraces and centers a sick state of being and perspective — eg. a shared set of accessibility tools, accommodations, disability-centered working language, and processes that bridge the gaps of specific impairments — and results in a short EP, a how-to-zine [online & physical], featuring a guidebook for chronically ill recording, and writing documenting our process.
Umlilo (OneBeat 2018)
Nkulukeo (Freedom), a workshop designed to bring together queer musicians in Southern Africa to collaborate on songs about upliftment, healing, and freedom in modern-day Southern Africa, which will be showcased in a special Pride Edition podcast of Chakra Huns on Other Radio to mark the release of the EP.
Sara Gonzalez Salamanca (OneBeat Virtual #2)
Tierra de Aves: Biodiversidad colombiana a través de la música, is an interdisciplinary project aimed at using music to raise visibility for the immense bird biodiversity in Colombia, through a composition workshop where composers will work alongside biologists and ornithologists, learning from their field and receiving reference material and new birding experiences along the creative process.