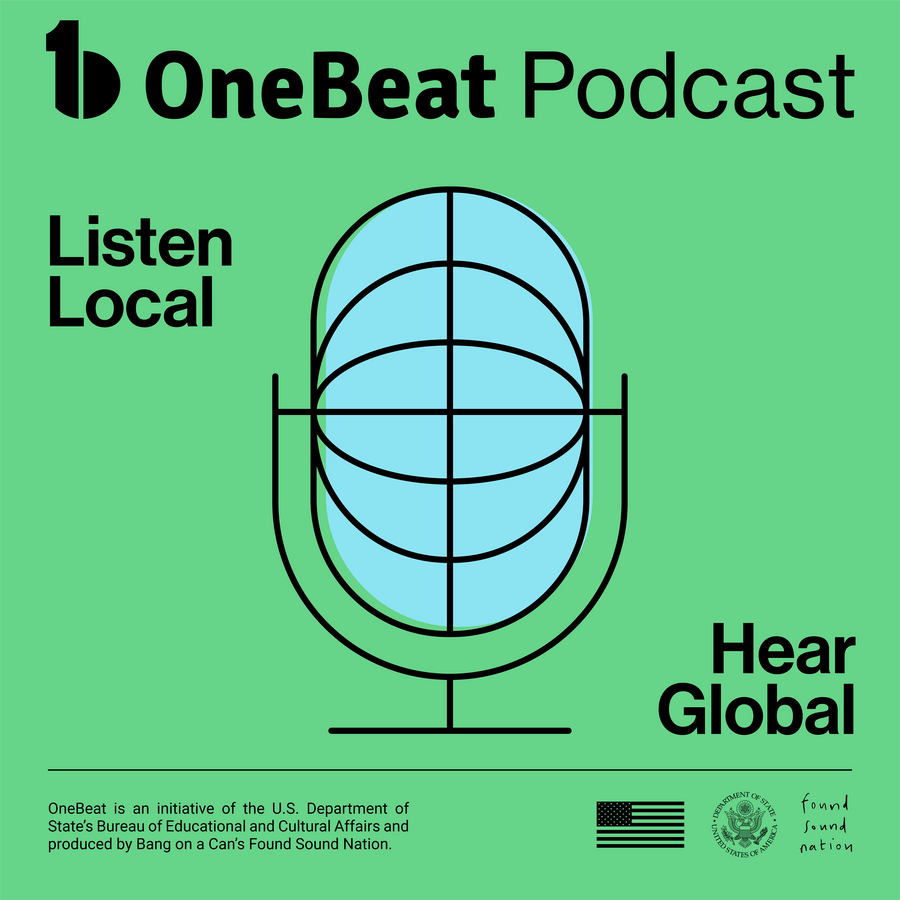 We're thrilled to share the first episode of The OneBeat Podcast! The podcast features conversations with musicians and artist leaders around the globe, as we ask the question at the heart of OneBeat's philosophy: Does music and creative collaboration make an impact in the world? How is our global community of musical leaders affecting change? In this podcast, we will speak to artists who are engaging their communities through music in many different ways. Each season features one-on-one interviews and discussions with artists from the OneBeat community and beyond.
Episode 1, Welcome to OneBeat, is streaming now via Simplecast, Spotify and other major streaming platforms.
In this debut episode of the OneBeat Podcast we introduce listeners to the people who make OneBeat possible from the U.S State Department's Bureau of Educational and Cultural Affairs, to the founders of Brooklyn-based arts organization Found Sound Nation, and the many incredible musicians who have participated in OneBeat and form a growing global network spread out over 52 countries around the world.
We talk about the mission that drives this project, and the underlying questions of this work – can music make a difference to our communities and in our societies? How do we create networks and drive conversations where artists and their work can inform global policy? How can creative collaboration and cultural exchange contribute to more democratic and equitable societies?
Produced and Edited by Kyla-Rose Smith  + Charlotte Gartenberg
Production Assistant: Nyokabi Kariũki
Mixed by Zubin Hensler
Executive Producers: Jeremy Thal, Elena Moon Park, and Kyla-Rose Smith
Featuring:
Elena Moon Park
Jeremy Thal
Julia Gomez-Nelson
The voices of OneBeat alumni Natalia Kunyitskaya, Rayhan Sudrajat, Paulo Sartori, Nina Marie Fernando, Rapasa Otieno, Andrea Hojos, Blessing Chimanga, Daniel French, Amel Zen, Darbuka Siva, Iskander Dridri,  Nonku Phiri, Pavithra Chari, Barry Likumahuwa, Alex Asher,  Hope Masike and Anna Roberts Gevalt.
All music produced by Found Sound Nation – find a full playlist here.
Additional music:
Louis Armstrong  & His All-Stars – Live  in East Berlin March 22nd 1965
OneBeat is an initiative of the U.S. Department of State's Bureau of Educational and Cultural Affairs, & produced by Bang on a Can's Found Sound Nation.