For our fourth Abroad program, OneBeat found a new home in Latin America. More than 700 musicians from Colombia, Venezuela, and the U.S. applied to be part of our groundbreaking OneBeat Colombia program, which ran from May 13th to June 5th, 2019. 15 talented fellows came together in Colombia's Valle de Cauca region to share their traditions and co-create original music. Following our residency based near Lago Calima, we embarked on a tour that included shows and workshops in the Pacific port town of Buenaventura, Cali and Palmira in the Valle de Cauca, and concluded with performances in Bogotá. The OneBeat Colombia group then spent two days of final reflection, and planning for future collaborations in the town of Tota in the Department of Boyacá.
Each OneBeat Colombia tour stop included community events that allowed us to share our collaborative music and processes with people from all walks of life. On June 25, we led a series of workshops at the Fundación Escuela Taller in Buenaventura, attended by more than 100 youth and community members. This event included a street studio, a 'found sound' music creation challenge in small groups, and an instrument building workshop led by U.S. Fellow Martin Masakowski. On June 2nd and 5th, OneBeat Colombia fellows ran a set of workshops at Cali's Teatrino de la Unión, a community center in an underserved neighborhood of Cali. This two-day workshop included a collaboration with Fundación Sidoc (who build traditional instruments out of recycled materials), Escuela Canalón de Timbiqui (a group of highly trained young musicians who play traditional music for Pacific coast), and two days of Street Studios.
Click here to read more about our Fellows. Follow OneBeat Colombia on Facebook.
Here are a few photos, taken by our wonderful photographer Jonathan Edery, that capture a bit of the magic of this program: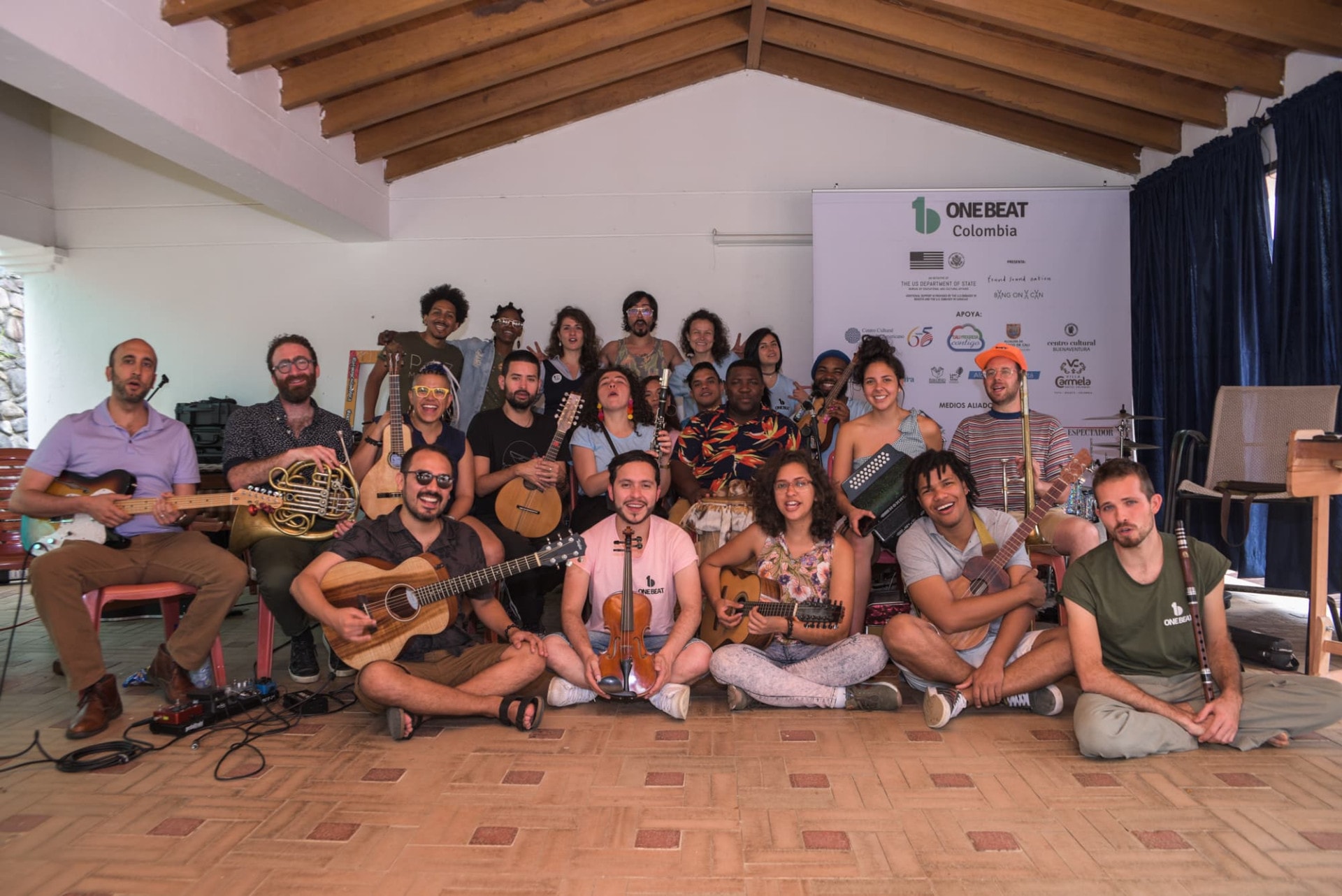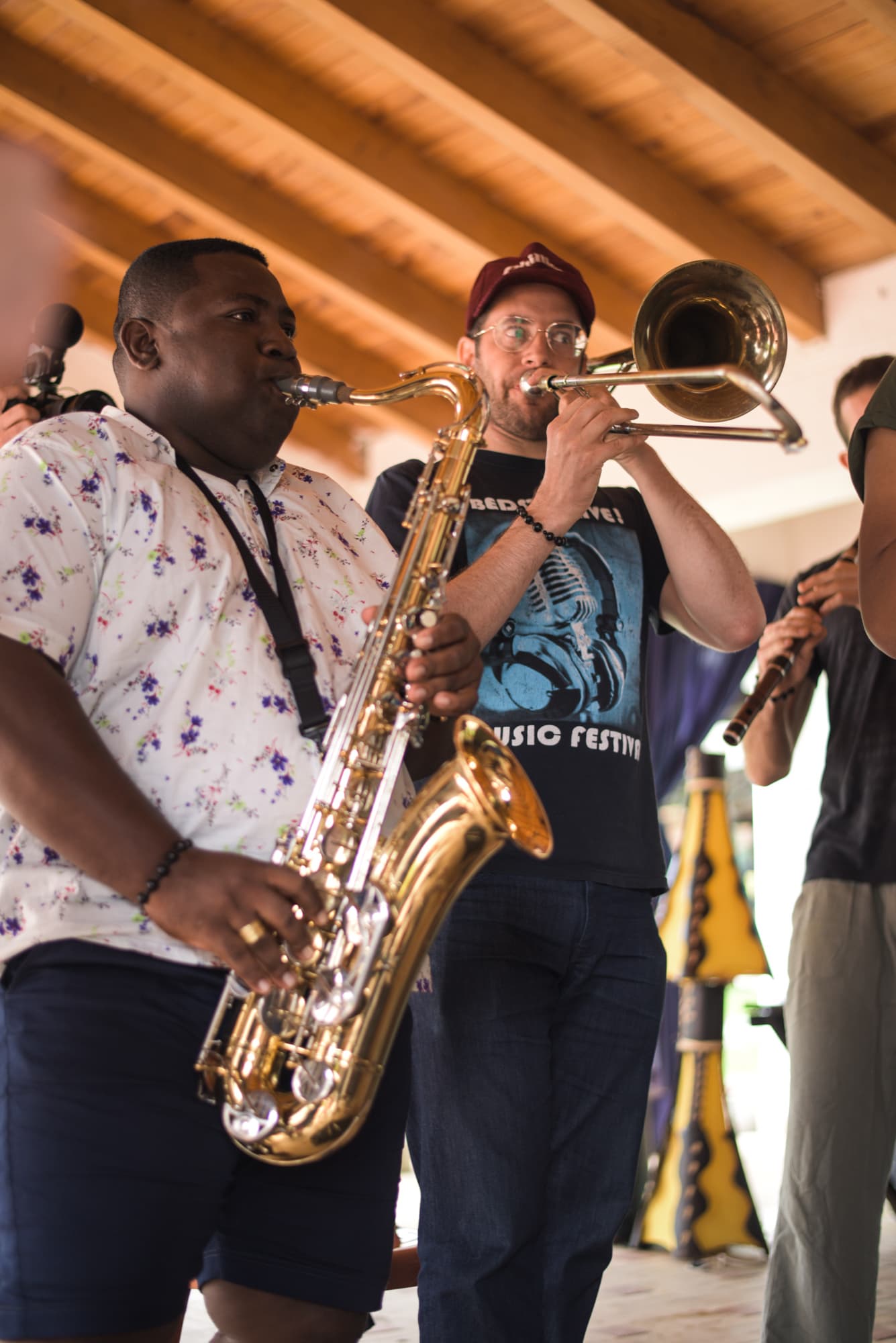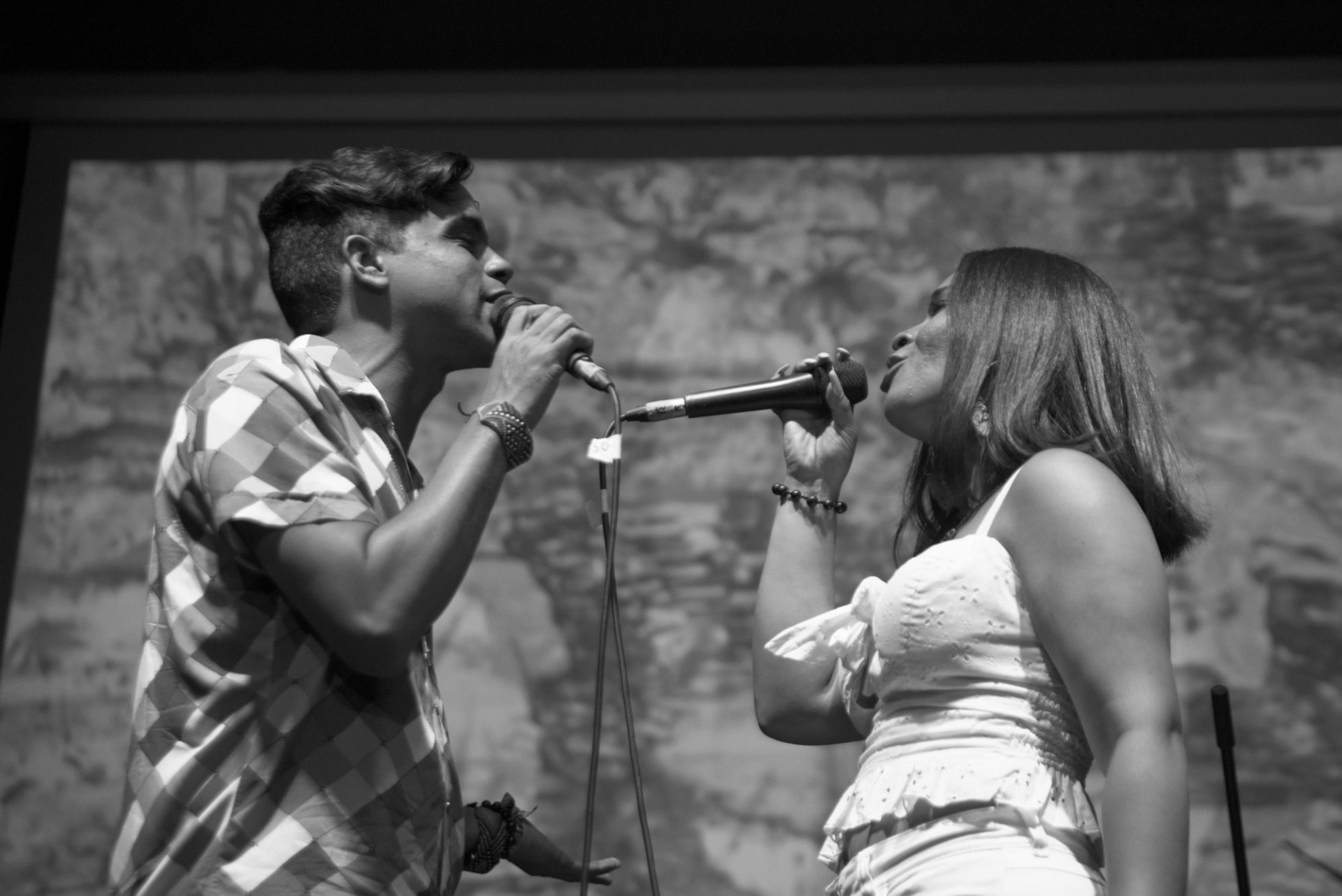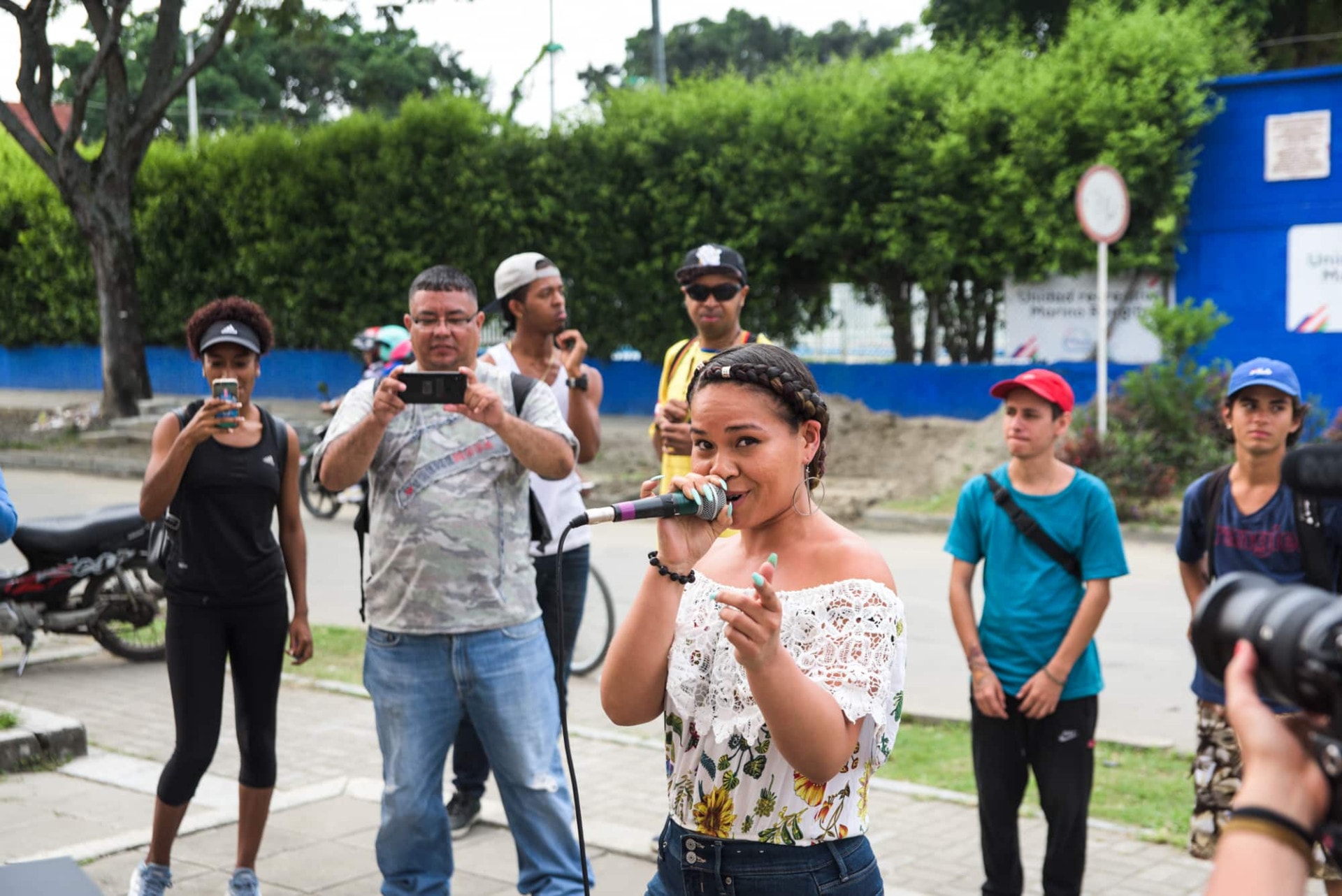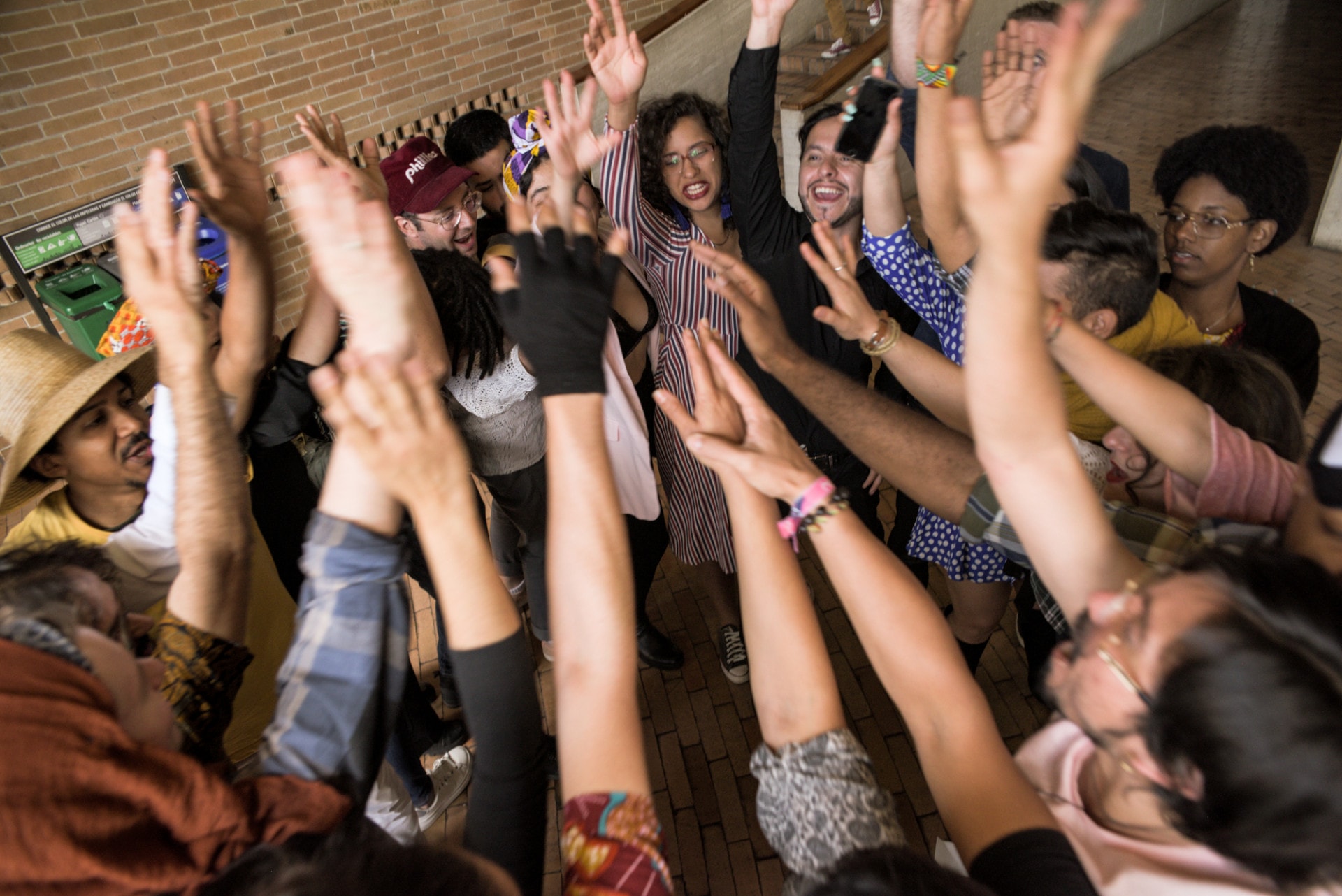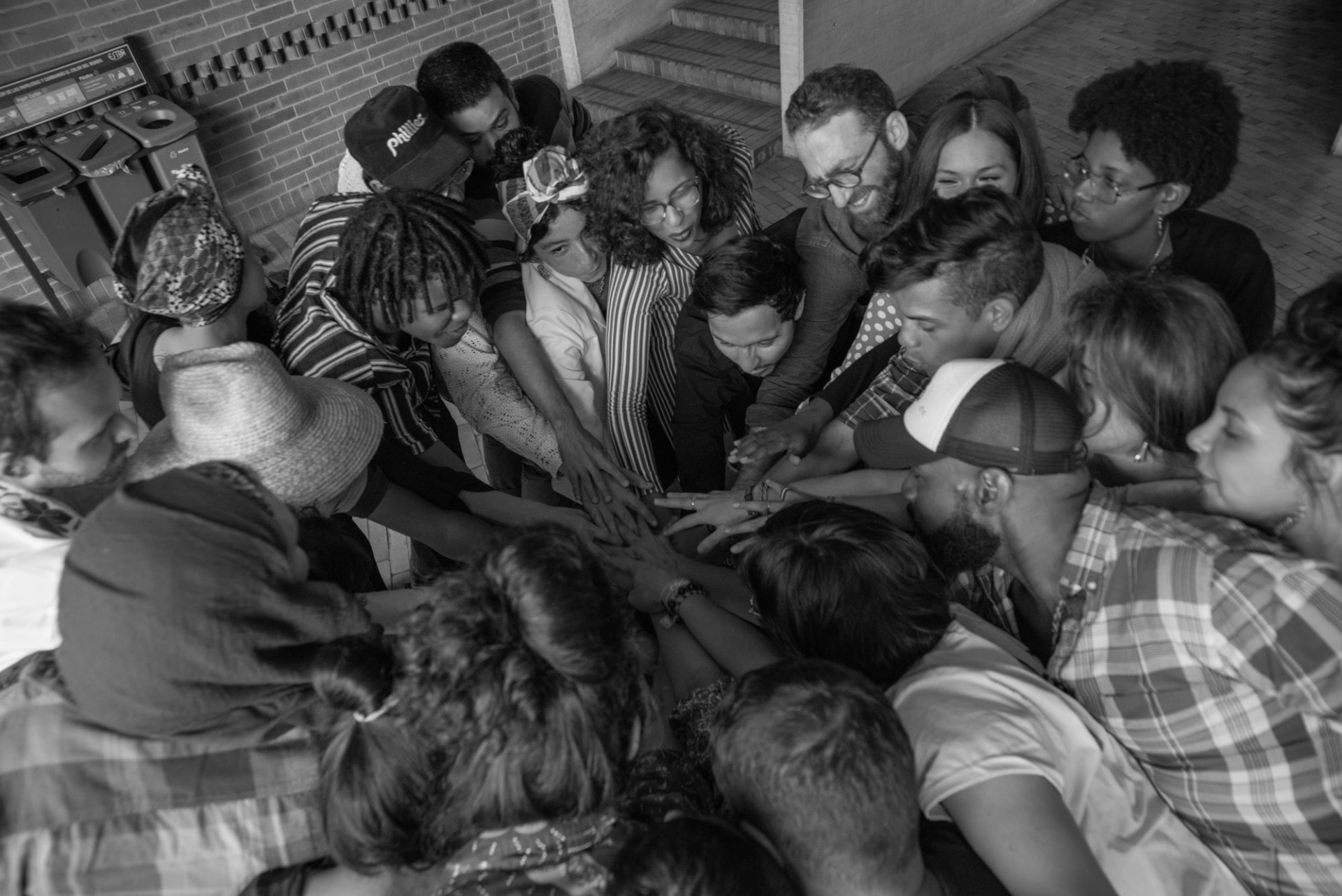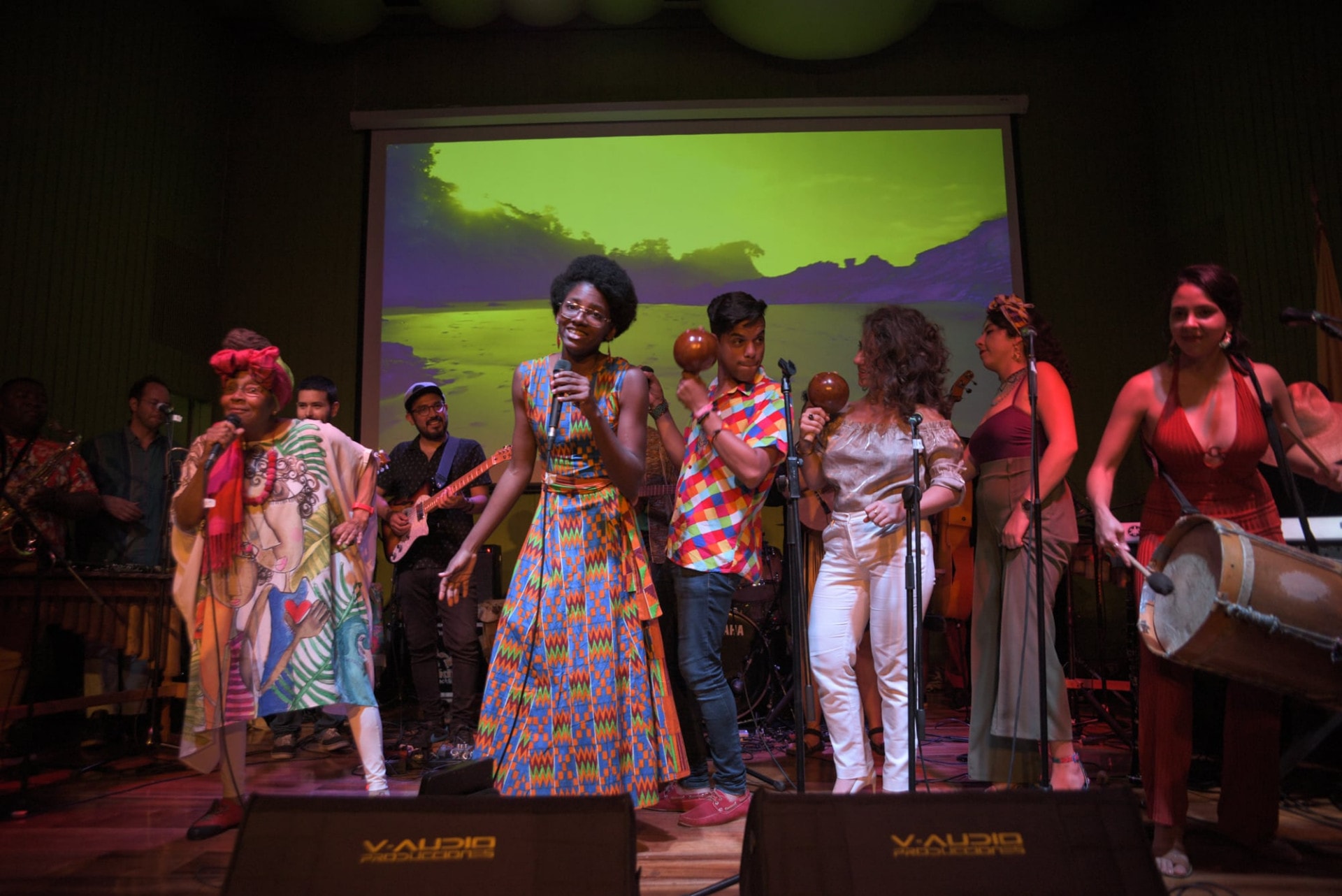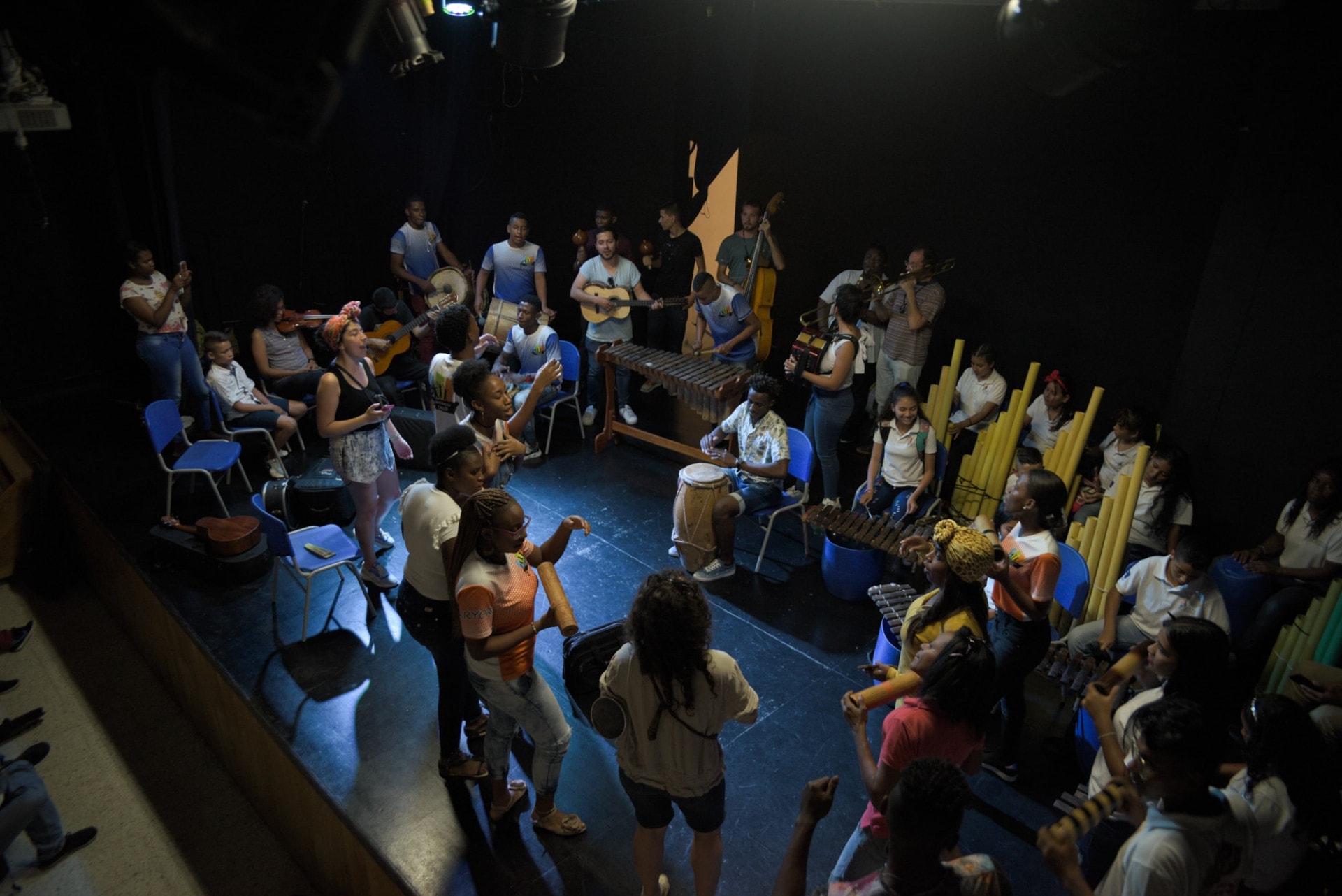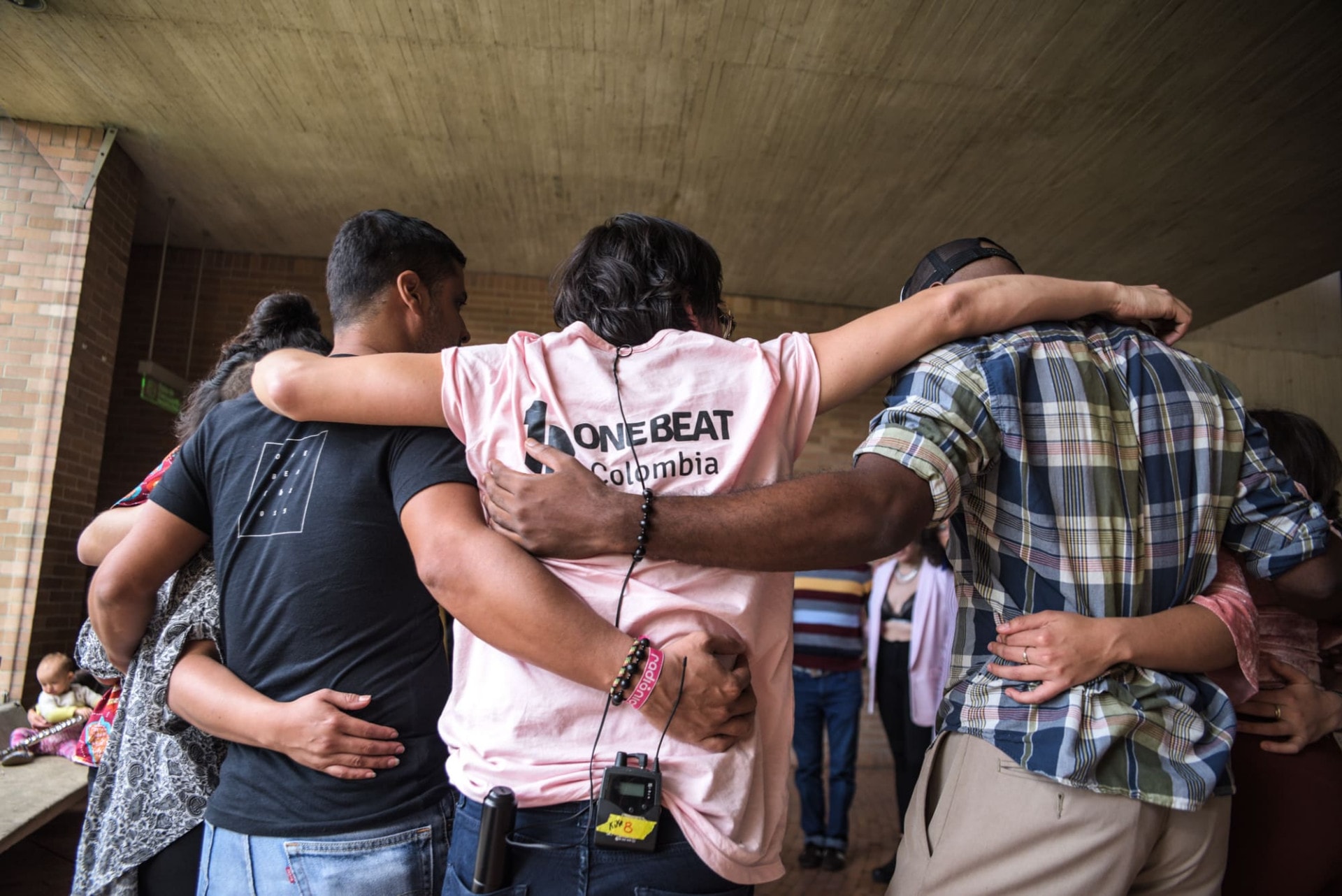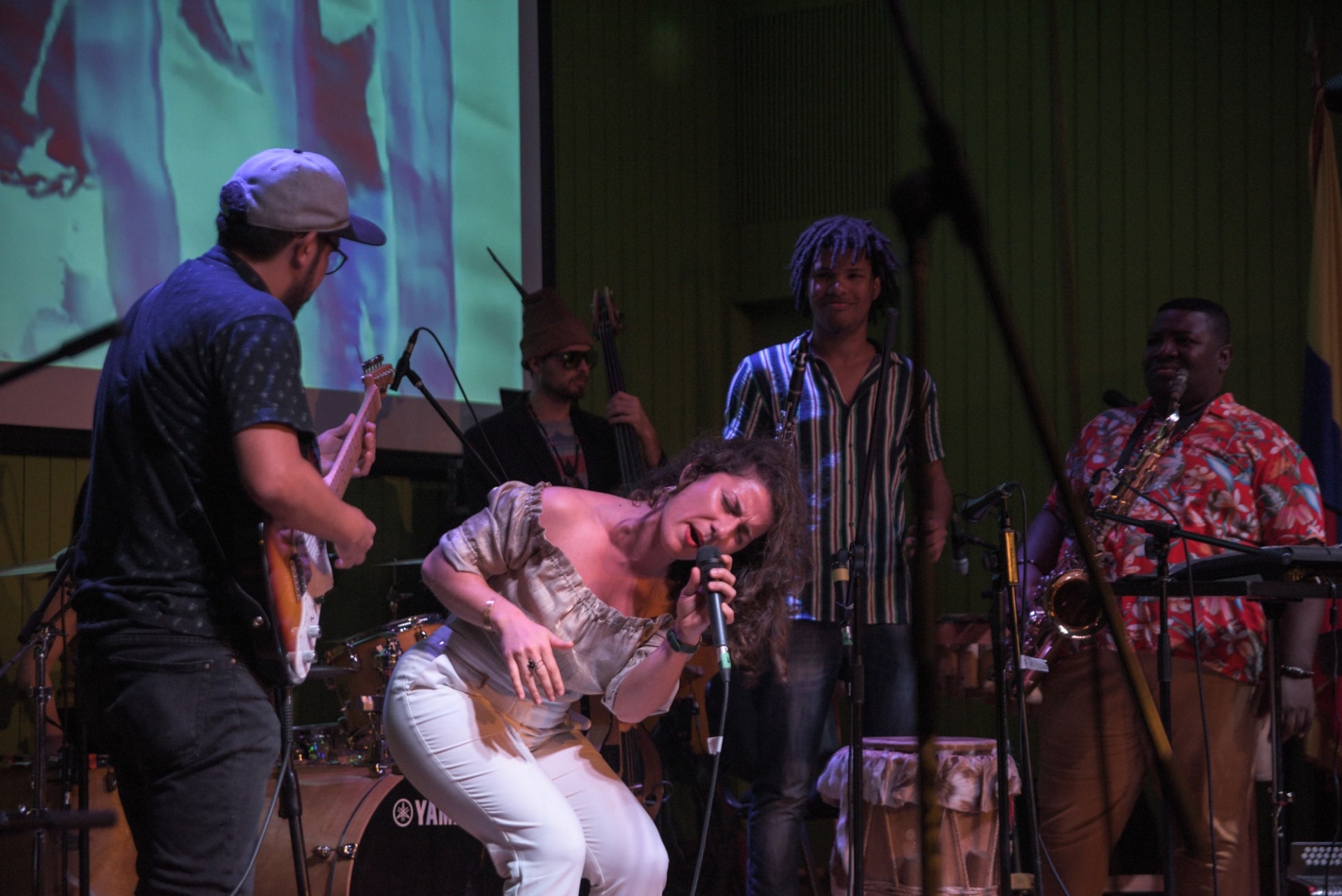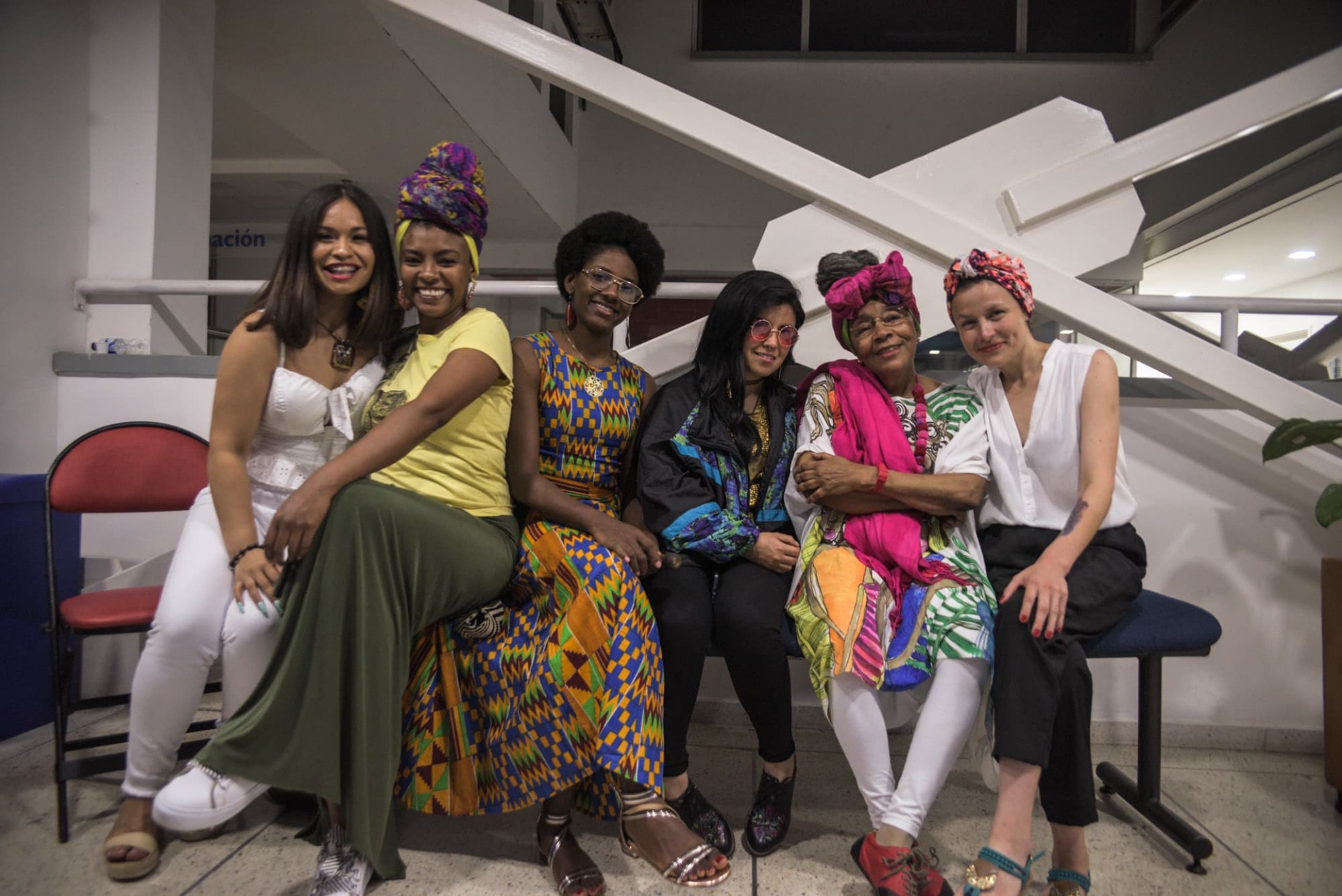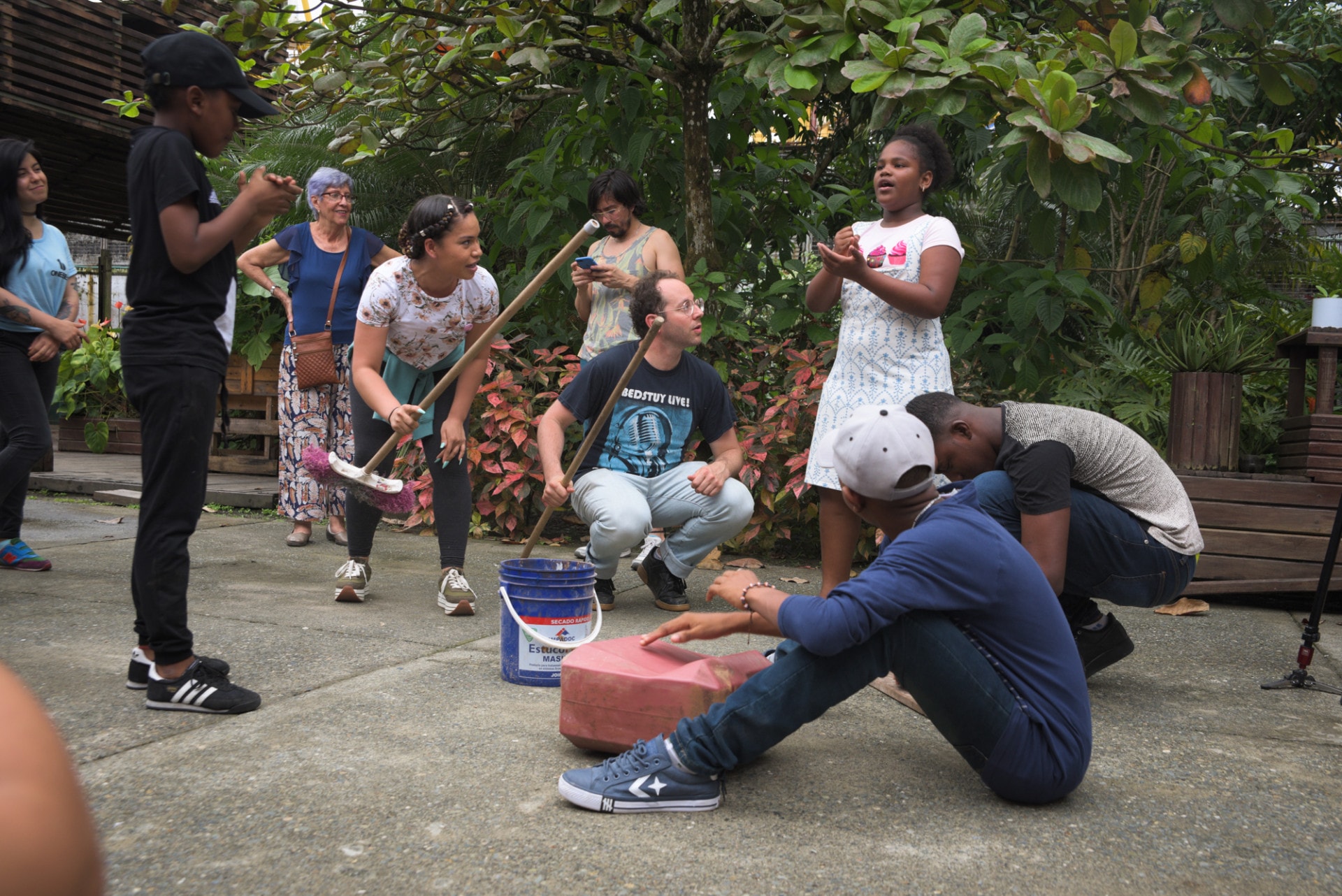 OneBeat Colombia 2019 FELLOWS
Eryen Ortíz Garcés / Marimba de chonta / Buenaventura, Colombia
Mathieu Ruz / Vocalist / Barranquilla, Colombia
Ronald Balanta Dorado (aka Chambimbe) / Producer / Santander de Quilichao, Colombia
Diana Burco / Accordionist, Singer-Songwriter / Bucaramanga, Colombia
Jorge Torres / Mandolinist / Caracas, Venezuela
María Betania Hernández / Multi-Instrumentalist and Composer / Caracas, Venezuela
Januar Arley Palacios / Clarinetist, Multi-Instrumentalist / Quibdo, Colombia
María Camila Moreno / Drummer / Pasto, Colombia
Adrián Felipe Viáfara / Clarinetist, Marimba de Chonta / Cali, Colombia
Tatev Yeghiazaryan / Pianist, Vocalist, Composer / Brooklyn, United States
Andrés Pinzón / Guitarist / Cali, Colombia
Austin Dean Ashford / MC, Ukulele, Poet / Fayetteville, United States
Denise Garcia (aka "Sincerity") / MC, Poet / Brooklyn, United States
Martin Masakowski / Bassist / New Orleans, United States
Alex Asher / Trombonist / Brooklyn, United States
COLLABORATING ARTISTS/ENSEMBLES
Sully Morillo / Vocalist and Composer / Cali, Colombia
Edward Ramirez / Cuatro Player and Composer / Medellin, Colombia (originally from Caracas)
Mama Julia / Band led by 2015 OneBeat Alumnus Fabian Sanchez
Todas Las Puertas / Collective of OneBeat Alumni: Johanna Amaya Conejo (Percussionist, Colombia, 2017), Paulim Sartori (Guitarist, Brazil, 2017), Felipe José (Cellist, Brazil, 2016), and Hannah Fidler (Bassist, U.S., 2017)
Mireaver / VJ / Bogotá
STAFF
Jeremy Thal / OneBeat Co-Founder and OneBeat Abroad Director
Diego Bahamón (2016 OneBeat Alumnus) / Artistic Director
Nicole Ocampo Hernández / Program Manager
Maria Fernanda Gonzales (2014 1Beat Alumna) / Facilitator + Assistant Program Manager
Daniela Serna (2014 1Beat Alumna) / Facilitator
Carlos Bejarano (2018 1Beat Alumnus) / Production Manager
Fabian Sanchez (2015 1Beat Alumnus) / Facilitator + Assistant Producer Manager
María Catalina Sandoval / Videographer (Founder of Videorgánica)
Jonathan Edery / Photographer
2019 TOUR DATES:
24/5 Buenaventura – Banco de la República – 6:30pm
25/5 Buenaventura – Fundación Escuela Taller – 2:00pm
27/5 Cali – Teatrino de la Unión – 4:00pm
28/5 Cali – Colombo Americano Centro Cultural – 7:00pm
29/5 Palmira – Guillermo Barney Materón Centro Cultural – 7:00pm
30/5 Cali – Teatrino de la Unión – 5:00pm
1/6 Bogotá – Biblioteca Victoria – 3:00pm
1/6 Bogotá – Biblioteca de Usaquén – 3:00pm
1/6 Bogotá – Biblioteca Arborizadora – 3:00pm
1/6 Bogotá – El Anónimo Bar – 10:00pm
2/6 Bogotá – Biblioteca del Tunal – 11:00am
2/6 Bogotá – Biblioteca el Tintal – 11:00am
2/6 Bogotá – Biblioteca Pública Virgilio Barco – 3:00pm


OneBeat is an initiative of the U.S. Department of State's Bureau of Educational and Cultural Affairs, & produced by Bang on a Can's Found Sound Nation. Additional support is provided by the U.S. Embassy in Bogotá and the U.S. Embassy in Caracas.
PARTNERS:

SUPPORT:

MEDIA PARTNERS: