"It's been 7 years since I first attended, and to see the impact of OneBeat in our individual lives and communities… I want to see that ricochet into ecosystems, not just communities. We see here a reflection of how art can directly and indirectly benefit communities, ecosystems and ultimately countries." 
– Ama Diaka, 16'
OneBeat X has kicked off with resounding buzz, as 25 of our all-star alumni have landed in Taos, New Mexico, completing week one of this exciting and dynamic journey. Brimming with creativity and with two more weeks to go, OneBeat X's first leg has seen reunions of friendships and artistic collaborations formed at earlier iterations of the residency, and witnessed new relationships being formed amidst Taos' backdrop.
In speaking with our alums, the impact of New Mexico's natural landscape on the artistry of the fellows can't be overstated. Poet and spoken word artist, Ama Diaka (Accra, Ghana), returns to OneBeat for the first time since her 2016 residency, and arriving in New Mexico for the first time ever, beautifully describes what it feels like to experience the atmosphere: "We had the privilege of going out to see the pueblo, the mountainscape, and the rocks. It's so breathtaking in such a way that you have to pause and take in and reflect on your relationship with your immediate surroundings. For me, it's been a time of reflection […] The minute I arrived in New Mexico I said to myself: I'm about to get a chock full of inspiration. The program, the people, the interactions, the music, the talent, and the impacts that each individual has in their community… It's such an inspiring place. It's a place to relate and witness how each individual is impacting their communities. To be able to take part in this is a privilege."
With OneBeat X being the first iteration of the program inviting only artists who've participated in past residencies, this year's programming offers the chance to fully explore the impact of the initiative on each artist's approach to their craft. Composer and multi-instrumentalist, Piotr Kurek (Warsaw, Poland), describes his musical journey over the decade since his 2012 residency–OneBeat's inaugural event: "I was mostly a solo artist when I arrived back then. After the experience things started to change for me, and OneBeat initiated that change towards more collaborative projects. When I completed that residency, I formed a small band and went to Korea with Kyungso Park (Seoul, South Korea) and Youmna Saba (Beirut, Lebanon), who were also fellows in 2012. We spent another two or three months working on music and doing performances. Since then, my projects have mostly been with other musicians, and I try not to be on my own. Ten years ago I didn't know what collaboration would feel like".
In the coming two weeks, our residents continue their journey across Taos, and soon, Albuquerque, where they'll be connecting with the locality through music and performance. To learn more about what OneBeat X has in store, take a look at our artists' schedule of events below.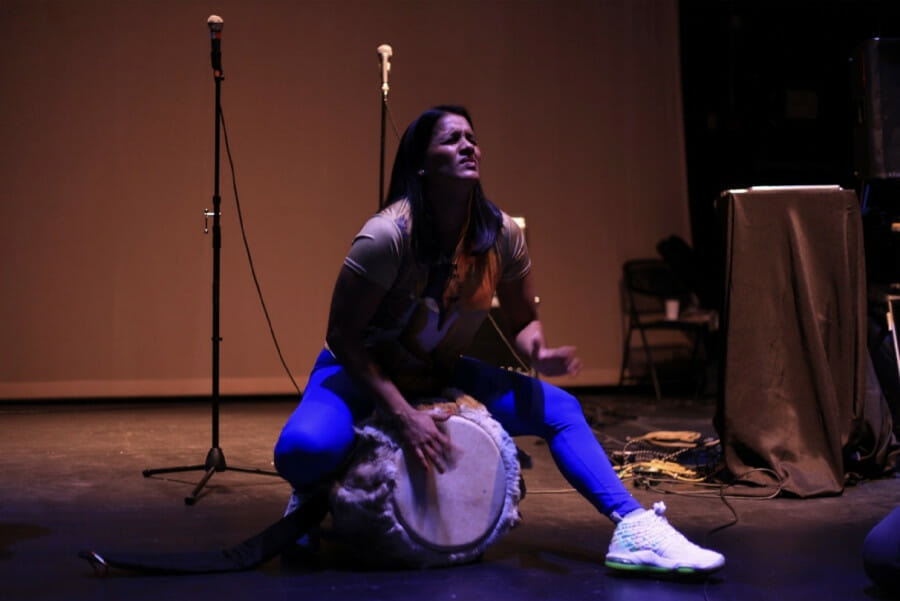 ---
Oct 26 | OneBeat Time Capsule
1:00 pm – 4:00 pm (MT)
Live on 93.5 KNCE Radio (Taos) and streaming online
This special radio broadcast celebrates OneBeat's ten-year anniversary, highlighting the works of OneBeat artists and featuring conversations with this incredible convening of sonic changemakers about how they are using their music to make the world a funkier and more harmonious place. Listen locally via 93.5 FM or online via www.truetaosradio.com.
---
Oct 27 | Our America: Documentaries in Dialogue
5:00 pm (MT)
Taos Center for The Arts, 133 Paseo Del Pueblo Norte, Taos, NM 87571
OneBeat and Taos Center for The Arts presents Our America: Documentaries in Dialogue a series of documentary screenings in association with PBS | POVA double bill of films featuring Winters Yearning and Feya Dayi. For more information on this screening, please visit this link.
5PM | Winters Yearning: In Maniitsoq, Greenland, the US aluminum giant Alcoa Corporation has been planning to build a smelting plant for years. Pictured against immense, isolating landscapes, the people await their plant and with it, the nation's possible first steps towards economic renewal and political sovereignty. This program is made possible by a grant from American Documentary | POV, with funding provided by the Open Society Foundations.
7PM | Faya Dayi: A hypnotic immersion in the world of Harar, Ethiopia, where khat, a euphoria-inducing plant, holds sway over the rituals and rhythms of everyday life, Faya Dayi captures moments in the lives of everyone from the harvesters of the crop to people lost in its narcotic haze to a desperate but determined younger generation searching for an escape from political strife. Official selection 2021 Sundance Film Festival. Shortlisted, 94th Academy Awards. A co-presentation with Black Public Media. This program is made possible by a grant from American Documentary | POV, with funding provided by the Open Society Foundations.
---
Oct 28 | El Cortez Theater
6:00 pm (MT)
El Cortez Theater, 4166 Highway 68 Ranchos de Taos, New Mexico
An intimate performance at a historic theater co-presented by Taos' Paseo Project, the show will include a collaboration between OneBeat Fellows Olga Maximova (Russia), Piotr Kurek (Poland) and Yara Asmar (Lebanon) and Bianca Casady (of CocoRosie).
---
Oct 29 | Transmissions from Beyond
6:00 pm (MT)
Taos Center for The Arts, 133 Paseo Del Pueblo Norte, Taos, NM 87571
OneBeat and Taos Center for The Arts presents Transmissions from the Beyond. This evening performance at the Taos Center for the Arts is the culminating event of a two-week residency in Taos. The theme of the evening is "Transmissions from the Beyond," an imaginary sonic landscape of elemental and ancestral spirits, filtered through the creative genius of OneBeat artists and Taos-based collaborators. Activating the entire TCA complex with music and sound installations, this event is a symbolic radio broadcast between the spiritual and material realms and the spaces in between.
---
Nov 05 | OneBeat X Festival
3:00 – 8:00 pm (MT)
Rail Yards, 777 1st St SW, Albuquerque, NM 87102
A day-long festival event & 10 year celebration, Found Sound Nation and 516 Arts team up with the City of Albuquerque Arts & Culture Department to present OneBeat X, a global music event and art happening at the Albuquerque Rail Yards on Saturday, November 5, 2022. Featuring installations by local and global artists, interactive music-making, and a special lineup of live performances by OneBeat artists, including guest artists. Donate and reserve tickets online.