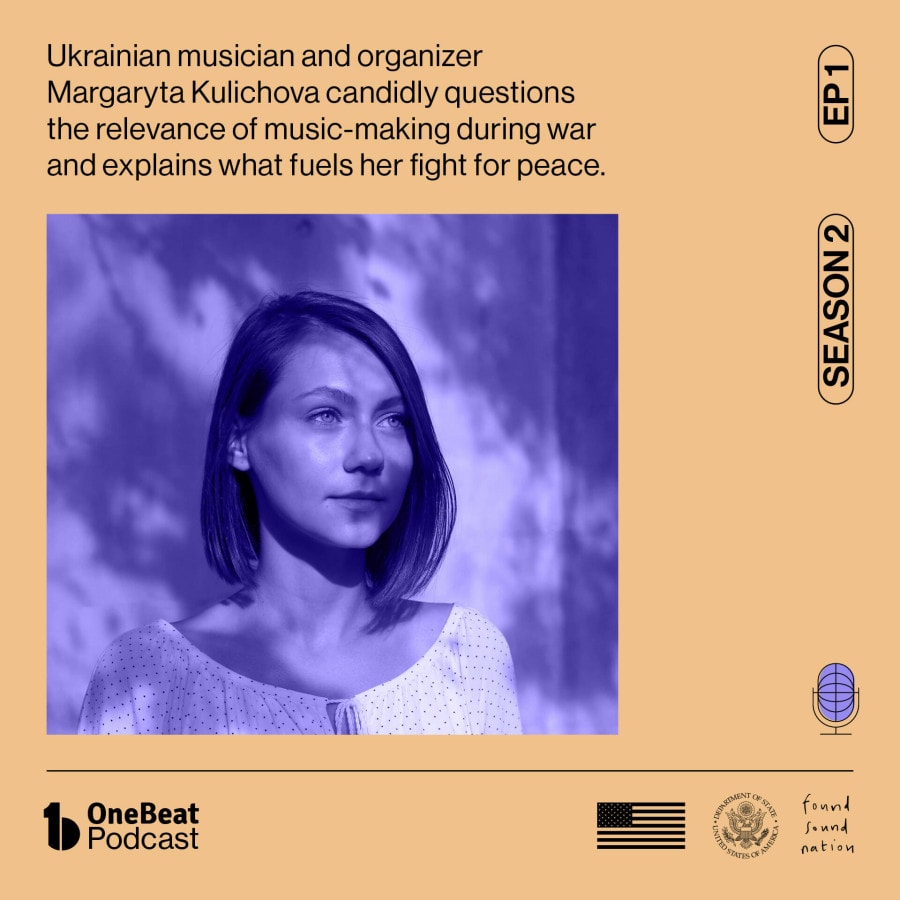 We are delighted to announce Season 2 of the OneBeat Podcast, where we will continue to tell the stories of the OneBeat music community and the places they come from.
This season comes with a special focus on place, where we inquire about the cultural contexts that shape and affect the ways our alumni engage with their communities, and with music-making. You will hear poignant accounts of Fellows who have been affected first-hand by the war in Ukraine; the art of noise music in China and its role as protest music; the idea of preserving history through sound in Nairobi, Kenya; how an American alumna is striving to make the experience of creating and sharing music more accessible, and more. Each episode will be accompanied by a playlist featuring music inspired by the episode.
Season 2 begins with the powerful voices of our OneBeat Fellows who have been affected by Russia's war on Ukraine, with the first being singer-songwriter and music organizer, Margaryta "Margot" Kulichova, who also releases under the experimental pop moniker 'Grisly Faye'. Across two emotionally charged interviews taken six months apart (with the first taking place closer to the start of the war this February), the Lisbon-based Ukrainian shares the effect of the war as it unfolds on her family and friends back home; the ways that she as a musician is having to cope with the situation; and her dedication to assisting both incoming refugees and Ukrainians on the ground. Margot candidly questions the relevance of music-making in this time, and explains what keeps her fight for peace going.
Listen here:
Listen to our Youtube playlist of music by Grisly Faye in the episode and beyond, here!
Produced and Edited by Jeremy Thal
Production Assistant: Nyokabi Kariuki
Mixed by Jeremy Thal
Executive Producers: Jeremy Thal, Elena Moon Park, and Kyla-Rose Smith
Featuring: Margaryta Kulichova
List of music in this episode:
Zyma, by Grisly Faye + Pepe Gavilondo (OneBeat 2018 Mixtape)
Patacoreo, by Kike Bejerano (OneBeat Colombia Mixtape)
Snow (Onebeat Balkans Mixtape)
Антрацит. Мюзикл про шахтарів (онлайн)
Слухай ніжно (by Monotonne, feat.Grisly Faye)
A Song Of Nature (Official Soundtrack) by Margaryta Kulichova
OneBeat is an initiative of the U.S. Department of State's Bureau of Educational and Cultural Affairs, & produced by Bang on a Can's Found Sound Nation.