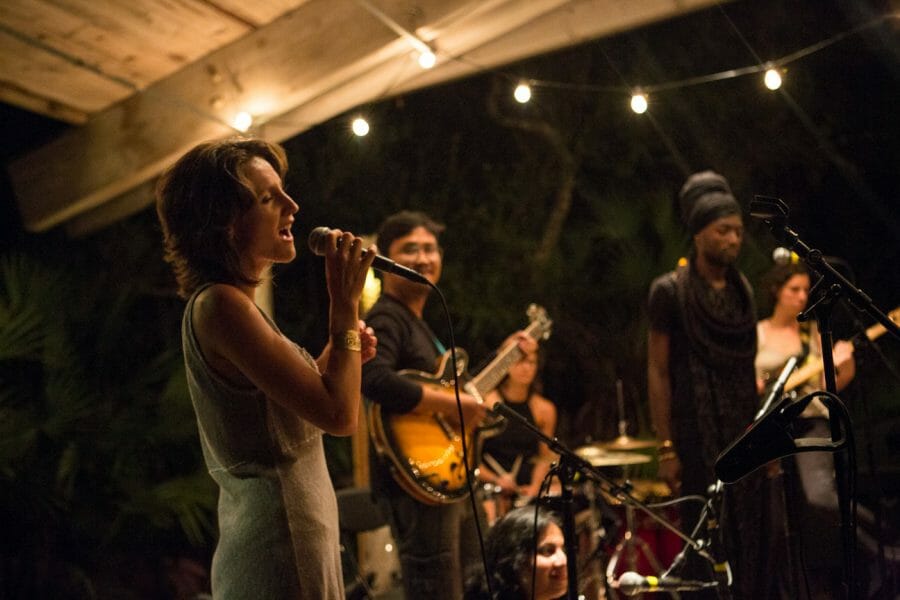 "It was exciting to see how important, even sacred it was for Mukta to complete the rhythmical cycles, whereas for me they were more like phrases to be combined, shortened, looped… Very inspiring to see such devotion and respect for the ancient tradition."
– OneBeat 2016 fellow Marina Sobyanina
A mixture of Indian rhythms and improvisational playfulness, this piece entitled "Zora" (also affectionately known to Fellows as the "Taal piece") results from a deep collaboration between composer / vocalist Marina Sobyanina and tabla player Mukta Raste. Marina reflects on the process of writing the piece:
Where did the name of this piece (affectionately known as the "Taal piece" among the Fellows) originate? How did the idea of piece itself originate? 
The piece is actually called "Zora" and is inspired by the idea of a city as a living organism. The main plot and lyrics are derived from Italo Calvino's Invisible Cities: "Zora's secret lies in the way your gaze runs over patterns following one another as in a musical score where not a note can be altered or displaced". In this piece I used Calvino's text and metaphors as codes, according to which the music functions.
You collaborated closely with tabla player Mukta Raste on the piece. What was that collaboration like, and how was it unique from other collaborations you've done?
It always fascinated me how diverse music cultures could interact and fuse together. In the Western culture we perceive musical time as linear, while the Indian rhythmic system is cyclic. So I wanted to connect these two approaches, and use Southern Indian rhythmical patterns as compositional elements. Mukta showed me different Taals and I chose the ones that suited the concept best; then we worked on the pronunciation, intonation and she explained to me in detail how each syllable corresponds to a tabla stroke. It was extremely exciting to see how important, even sacred it was for Mukta to complete the rhythmical cycles, whereas for me they were more like phrases to be combined, shortened, looped… Very inspiring to see such devotion and respect for the ancient tradition.
We also didn't use tanpura (the drone sound that is normally used while reciting Taal) so that the silent pauses between the phrases would accentuate the gaps.
You've taken part in several musical residencies.  How does the residency setting affect your process as a composer & musician? How did OneBeat differ from other residencies you've done?
Actually, OneBeat was very different from other residencies. Mostly because there is a tour and a goal to put together a program, which could be presented in different settings and line-ups. It sets the tone for the agenda and routine during the residency, which is less relaxed, but therefore more prolific and active in terms of bonding musicians of different musical backgrounds. In other programs I've done, the work was mostly centered on experimenting, not necessarily outcome-oriented. Here you are more motivated to come up with a "product", something that could be presented to audiences and potentially be used as material for socially-engaged workshops.
There are two seemingly distinct sections to this piece. How do they relate, and how did you come up with this arrangement?
"The city which cannot be expunged from the mind is like an armature, a honeycomb in whose cells each of us can place the things he wants to remember…But …forced to remain motionless and always the same… Zora has languished, disintegrated, disappeared. The earth has forgotten her".
This outline from Calvino's book is in fact a programme for the piece's dramaturgy. In the beginning the idea was to interwave the Taal part into the following instrumental passage, but it didn't happen because of the rehearsal schedule overlaps and because all the musicians were busy in numerous projects, so it kind of stayeddevided in two separate sections. It still correlates with the original idea though.
Do you approach music creation and collaboration differently as a composer versus as a performer? 
As a matter of fact yes. Of course it depends to a great extent on the setting, conditions, time, ideas, rehearsal options, etc. As a performer you communicate directly with other musicians, even if it is a thoroughly notated music with no spots for improvisation. If we are talking about free improvisation, then it's all about interaction, attention and instant collective composing. As a composer, especially in commissions where you actually don't get to know the musicians at all, you are mostly exposed to your own ideas, concepts and curiosity. In the end it is extroversion versus introversion. That's why it is important for me to keep both activities balanced.