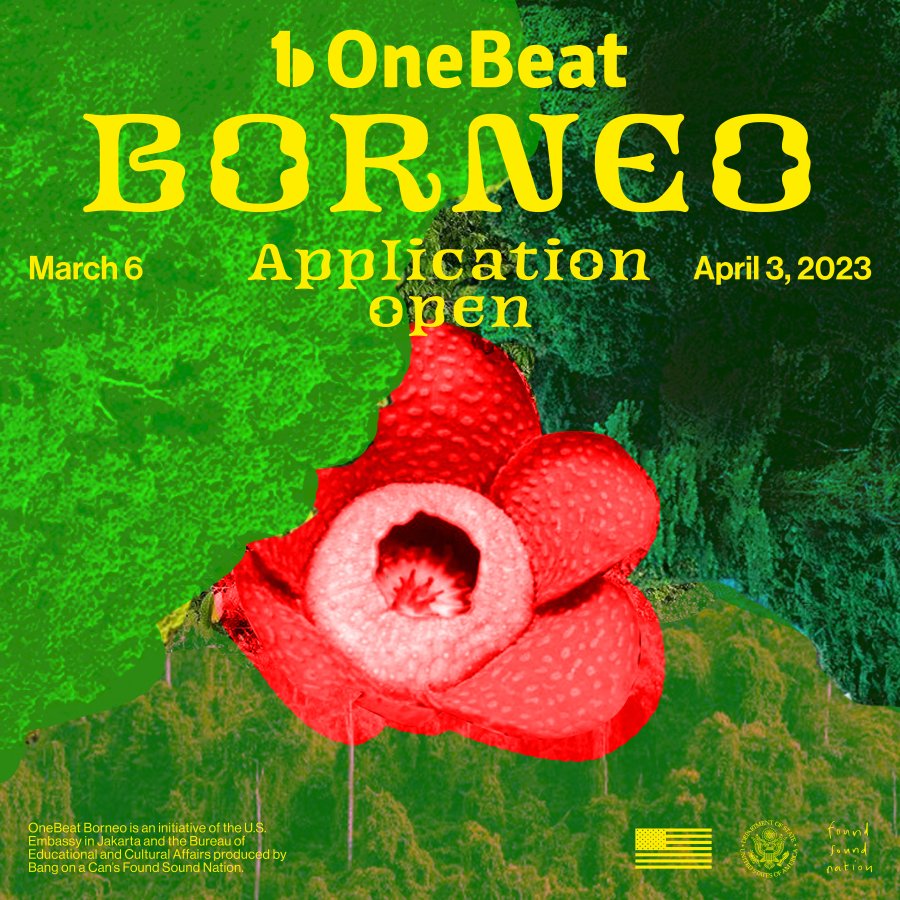 OneBeat is pleased to announce OneBeat Borneo with an application for musicians from Indonesia, Malaysia and the United States. Through a free, open and merit-based application process, 12 artists, ages 19-35, will be selected to participate in a two-week residency in West Kalimantan from August 14-28, 2023.
OneBeat Borneo fellows will unite through sound and performance to create original music, collaborate with guest artists, lead community workshops and present a final performance in Pontianak informed by important conversations about the island's shared history, rapid development and pressing environmental challenges.
OneBeat Borneo is a cultural diplomacy initiative of the U.S. Embassy in Jakarta and the Bureau of Educational and Cultural Affairs produced by Bang on a Can's Found Sound Nation.
OneBeat is a constellation of music diplomacy programs that began in 2012 and has worked with over 400 socially engaged musicians from 65 countries. OneBeat Abroad programs bring the transformational experience of OneBeat to a different country or region of the world each year. OneBeat Abroad supports the growing alumni network and shares the ethos of creative collaboration as civic discourse with wider audiences. Beginning in 2016, OneBeat Abroad programs have brought socially engaged music initiatives to OneBeat Istanbul, OneBeat Balkans, OneBeat Russia, OneBeat Colombia, OneBeat Lebanon and OneBeat Sahara.
OneBeat Borneo's theme, "Pararaung: Sonic Coexistence", invites fellows to explore concepts of adaptation, coexistence and interconnectedness, as exemplified by Borneo's diverse ecosystems, through a sonic lens. Through shared dialogue and exploration, fellows will reflect upon Borneo's social and environmental issues while exchanging with local community members. OneBeat Borneo's Artistic Director is OneBeat alumnus Nursalim Yadi Anugerah, a composer, multi-instrumentalist and musicologist based in Pontianak, Indonesia.
Visit onebeatborneo2023-fsn.apply.org for more information and to apply. Application deadline has been extended Monday, April 10, 2023 at 5PM EST.