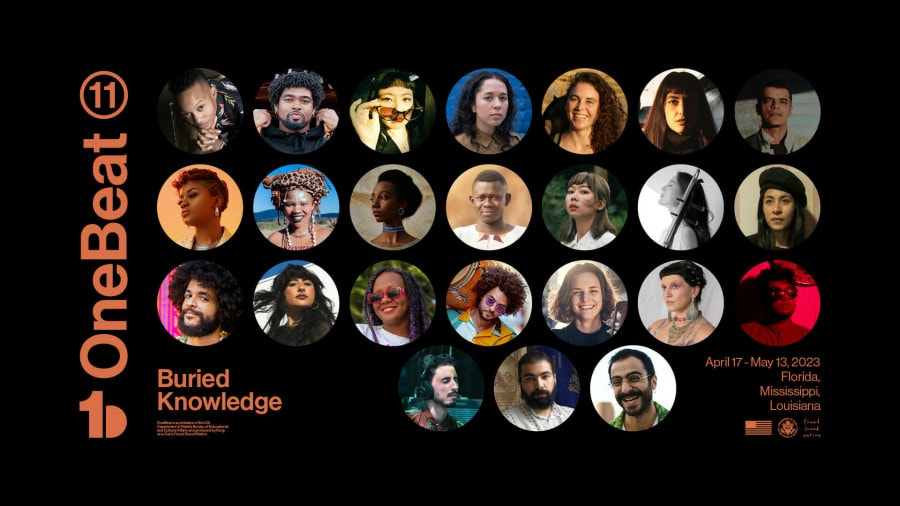 Help us welcome 25 innovative musicians from 17 countries to communities in Alabama, Florida, Louisiana, and Mississippi from April 17- May 14, 2023!
OneBeat 11–Buried Knowledge examines the connections between place and memory and invites fellows to use music as a tool to unearth, revive and celebrate hidden or suppressed histories, traditions, and cultures.  OneBeat 11 fellows will create original music that reveals buried knowledge, inspires deeper connection to diverse cultural heritage, and stronger appreciation for forgotten wisdom.  Fellows will work with renowned musicians, and cultural leaders including Lonnie Holley, Carlton Turner and Matthew Evan Taylor.
For the first time since the launch of the program in 2012, musicians from Sudan will join musical tastemakers from Algeria, Bolivia, Brazil, Colombia, Cuba, Democratic Republic of Congo, Egypt, India, Indonesia, Lebanon, Mexico, Mongolia, Nigeria, South Africa, Turkey, and the United States. These musicians, ranging in age from 19-35, represent traditional to avant-garde musical traditions, instrument builders and sculptors, educators, and creative entrepreneurs, all of whom are contributing to their communities and the music industry through their artistic practice and dedication to music and sound as a form of cultural cohesion. To learn more, visit 1beat.org
OneBeat is the leading multinational music exchange of the U.S. Department of State's Bureau of Educational and Cultural Affairs that uses the power of creative collaboration as a gateway to civic discourse and cross-cultural understanding.