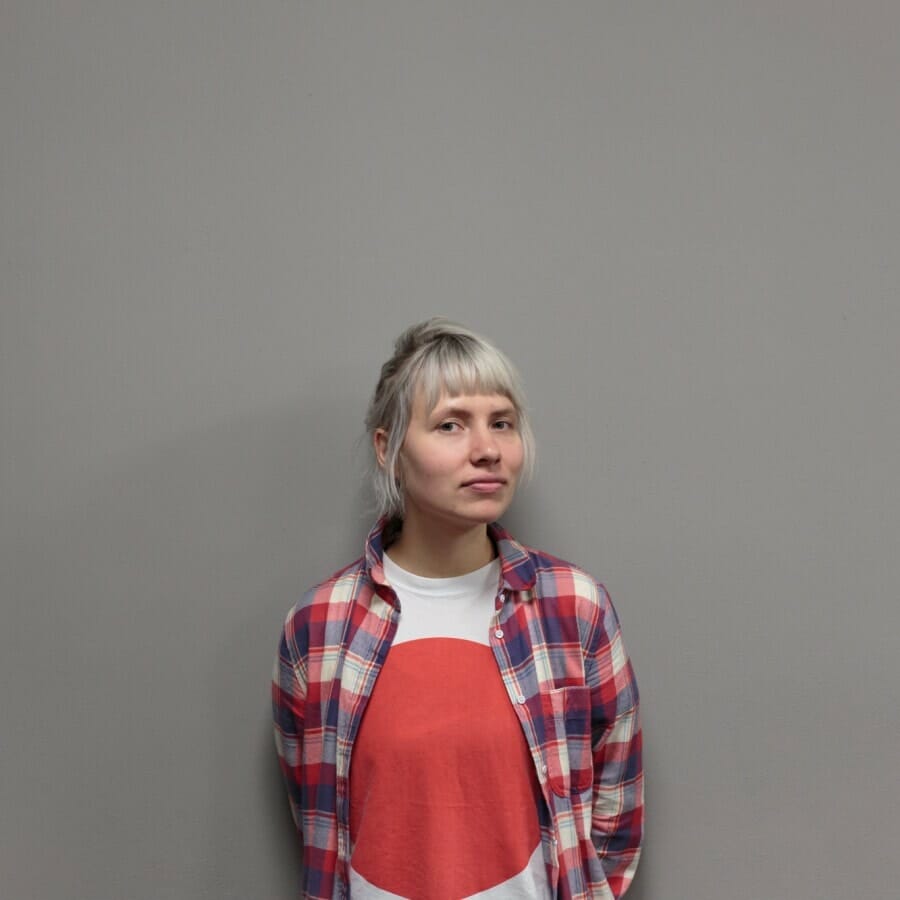 "I always wanted to perform my tracks as NV live with a small orchestra or ensemble… It was such a challenge — we had to make a real score and it was 56 pages!"
— OneBeat 2015 Fellow Kate Shilonosova, a.k.a. NV
Where does the title "Bells Burp" come from?
It's a silly name, but that was the original working title of my Ableton project. I used to name tracks titles like "Improv2" or "Loop1" but it became hard to navigate between them. One of my favorites is called "Sad Woman Cries" and it's a actually a really beautiful song. Usually I'll change a name after I finish a track, but I have no idea why I decided to leave it that way for "Bells Burp".
You recorded a version of this song on your album Binasu, as NV. What made you want to rearrange it to be performed by OneBeat Fellows?
I always wanted to perform my tracks as NV live with a small orchestra or ensemble. During OneBeat, I realized that we'd been working in small bands because it was easier to communicate, rehearse and make music. But I really wanted to try something more. There was huge potential—percussion, strings, voices. That's why I thought "Bells Burp" would be the best thing to perform together.  It was such a challenge — we had to make a real score and it was 56 pages!

You worked with Daniel De Mendoza on arranging this piece. What was that collaboration like?
We had a lot of fun together. Daniel is so smart and patient! I couldn't have done this alone because I'd never transcribed a score based off a recording before. I thought it would be easy, but it took us about 7 hours to put together the "Bells Burp" score. We created several patterns for different percussion instruments and imitated all the synths, using strings and voices instead. The track is quite repetitive and we had to repeat each pattern exactly the same number of times to recreate the exact essence of the track. That's why the final conductor's version of the score contains so many pages for five minutes of music.
You've spoken about the influence of Cornelius Cardew and Scratch Orchestra on your work. Can you explain what draws you to his work?
My life is literally divided into before and "after" discovering Cardew and Scratch Orchestra. Cardew's "The Great Learning" changed my perception of music in general. I began to hear everything in a different way and something new in obvious things. Before I found out about Scratch and Cardew, I surrounded myself with genre stereotypes and didn't allow myself to get outside of these boxes. And probably the most important thing—I finally learned how to improvise and use sounds as a language to communicate with other musicians.
How has your work as a producer and songwriter been affected through your work at OneBeat?
First, I stopped being nervous during sound checks and concerts. In the future, I won't be as stressed if I don't have enough time for my soundcheck or the audience do not understand my music. Second, I feel that I can make music almost anywhere and in any type of condition. And of course, I learned a lot about the Fellows, the music they are passionate about and would love to create.