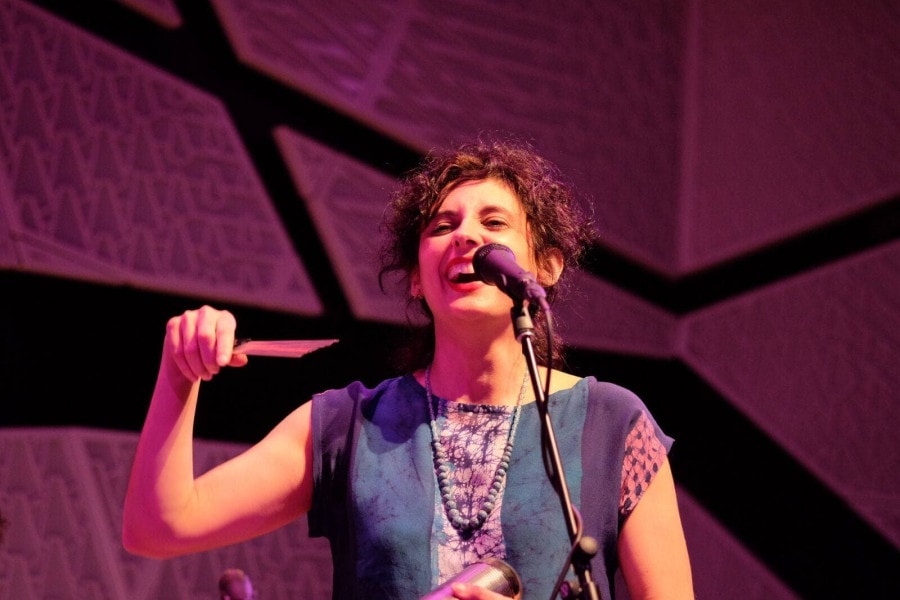 Sara Lucas (OneBeat 2014) is a Brooklyn-based vocalist and guitarist, who recently toured the Americas with the OneBeat alumni ensemble LADAMA. Elena Moon Park is a Brooklyn-based violinist and co-director of OneBeat. Fellow-to-Fellow is an ongoing interview series featuring in-depth discussions between OneBeat alumni. Fellow-to-Fellow is an ongoing interview series featuring in-depth discussions between OneBeat alumni.
**
Elena Moon Park: Why do you think it's important for people from different cultures to share an experience through music?
Sara Lucas: Above all to listen. You have to listen to understand. And if we strive to understand each other we remain open, creative and cogent.
EMP: What drives your own music-making? Why or how is collaboration important for you art?
SL: As a composer and performer I strive to channel beauty in the original, personal and community creation of sound as it defines movement and time.
To create music with other people is the most meaningful thing I could possibly do and so I am driven to do this over and over. And my reason for wanting to collaborate is rather selfish-  it fills me up intellectually, spiritually or emotionally.
EMP: What is your favorite or most meaningful memory from OneBeat?
SL: The whole experience of OneBeat was a meaningful memory. But if I have to narrow it down to one singular experience…My Pod group arranged a song together for a OneBeat Alum. Peni Candra Rini, a Javanese singer and composer, was a dear friend of Sri Joko- an Indonesian multi-instrumentalist- who had passed away quite suddenly that year. And in his memory she had written a beautiful composition. As a group of 7 people from 6 countries, we were able to arrange the song, record and perform it. This was a profound experience for me- creatively, musically and spiritually. Before we made this song we had played music as an ensemble for only one week. But when we played together it was so complete. Everyone was "saying" exactly what needed to be said and nothing more. And it was a humbling experience to accompany a singer of such magnitude as Peni on a composition such as this.
https://soundcloud.com/found-sound-nation/song-for-sri-joko?in=found-sound-nation/sets/onebeat-2014-mixtape#t=0:00
Musicians are: Camilo Rodriguez, Peni Candra Rini, Dahlak Brathwaite, Sanaya Ardeshir, Sara Lucas (myself), Kyla Rose Smith, Ahmed Moorea
EMP: What were your first or most powerful musical influences? (I ask this because you have such a soulful sound to your voice, and I'm wondering if this comes from specific influences)
SL: I don't know where to start. I grew up in St. Louis singing blues, R & B, gospel, folk and jazz. I was also a trained classical guitarist obsessed with Brazilian music as a child. Two singers come to mind as two of the most influential for me in my youth (besides my mother who taught me pitch by singing to me)- Dinah Washington and Betty Carter. And then there's Baden Powell, a Brazilian guitarist and composer.
https://www.youtube.com/watch?v=jXOJnnWaDnc – Here is the 1966 record of Baden Powell and Vinicius de Moraes and their Afro-Sambas. These songs!
https://www.youtube.com/watch?v=psSdhLuQ2mo – This is of Dinah at Newport. I know that it's pretty straight ahead swing. But man, nobody sang like that. Her soul, feel and phrasing.
https://www.youtube.com/watch?v=4Mb_f-__bx0 – Here is Betty Carter singing "The Sun Died." She was a composer, teacher, singer, interpreter and ran her own music label where she released her own records. This is from one of my favorite records- Finally, Betty Carter. Her phrasing is incredible.
EMP: What has been the most frustrating / challenging aspect of the trials of being a professional musician? Can you identify a specific solution or alleviation to this particular issue?
SL: I think that the most challenging aspect of being a professional musician in the United States has been the ability to earn enough to support oneself. I think, though, that this is the case with any artist anywhere in the world- and I am referring specifically to musicians who choose to make money from only the music that they create as opposed to playing within specified traditions or music composed by others. I don't have a specific solution to creating a living out of selling one's own work explicitly- but working hard is definitely key. I know that one must diversify one's revenue streams, remain open to opportunities and also to the idea that it is OK to make money off of your art. Most importantly, one must continue to work within communities of musicians that support each other and each other's work. It is not sustainable otherwise.